Bulbasaur is a grass poison pokemon his japanese name is "Fushigidane フシギダネ" He evolve to Ivysaur at level 16 and venusaur at level 32
Pokedex entry
| | |
| --- | --- |
| Ruby | BULBASAUR can be seen napping in bright sunlight. There is a seed on its back. By soaking up the sun's rays, the seed grows progressively larger. |
| Sapphire | BULBASAUR can be seen napping in bright sunlight. There is a seed on its back. By soaking up the sun's rays, the seed grows progressively larger. |
| Emerald | BULBASAUR can be seen napping in bright sunlight. There is a seed on its back. By soaking up the sun's rays, the seed grows progressively larger. |
| Fire red | There is a plant seed on its back right from the day this POKéMON is born. The seed slowly grows larger. |
| Leaf green | A strange seed was planted on its back at birth. The plant sprouts and grows with this POKéMON. |
| Diamond | For some time after its birth, it grows by gaining nourishment from the seed on its back. |
| Pearl | For some time after its birth, it grows by gaining nourishment from the seed on its back. |
| Platinum | For some time after its birth, it grows by gaining nourishment from the seed on its back. |
| Heartgold | The seed on its back is filled with nutrients. The seed grows steadily larger as its body grows. |
| Soulsilver | It carries a seed on its back right from birth. As it grows older, the seed also grows larger. |
| Black | For some time after its birth, it grows by gaining nourishment from the seed on its back. |
| White | For some time after its birth, it grows by gaining nourishment from the seed on its back. |
| Black 2 | For some time after its birth, it grows by gaining nourishment from the seed on its back. |
| White 2 | For some time after its birth, it grows by gaining nourishment from the seed on its back. |
| X | A strange seed was planted on its back at birth. The plant sprouts and grows with this Pokémon. |
| Y | For some time after its birth, it grows by gaining nourishment from the seed on its back. |
| Omega Ruby | Bulbasaur can be seen napping in bright sunlight. There is a seed on its back. By soaking up the sun's rays, the seed grows progressively larger. |
| Alpha sapphire | Bulbasaur can be seen napping in bright sunlight. There is a seed on its back. By soaking up the sun's rays, the seed grows progressively larger. |
Trivia
In the Japanese Pokémon Red, Green, and Blue, international Pokémon Red and Blue, and Japanese Pokémon FireRed and LeafGreen,Professor Oak classifies Bulbasaur as the "plant Pokémon" (Japanese: しょくぶつポケモン) when the player is about to choose it as their starter, using the term while referring to its type. In the English versions of Pokémon FireRed and LeafGreen, he calls it the "grass Pokémon".

This also occurs in the first episode of Pokémon Origins.
Niue released a one-dollar coin featuring Bulbasaur as part of a commemorative promotion for the Pokémon franchise, with Bulbasaur on one side and the nation's coat of arms on the other.
Bulbasaur's evolution family is the only starter Pokémon evolution family to have each member appear at least once in the Super Smash Bros. series.
Bulbasaur is the only unevolved dual type starter Pokémon.
Bulbasaur and its evolutions share their category with Sunkern. They are all known as the Seed Pokémon.
Bulbasaur's number in the National Pokédex and the Fiore Browser are the same: 001.
Due to the censor that prevents Pokémon with offensive nicknames being traded on the GTS, an English language Bulbasaur cannot be traded on the GTS without a nickname in Pokémon Black and White.
In Pokémon Gold and Silver, Bulbasaur is programmed to be able to learn Charm through breeding, but no other Pokémon in the Grass orMonster Groups can legitimately learn it to pass down as an Egg move in those games. In Generation III and IV, Bulbasaur can inherit the move from Shroomish by chain breeding; in Generation V on, Bulbasaur can inherit the move directly from Cottonee.
Origin
Bulbasaur is similar to toads and frogs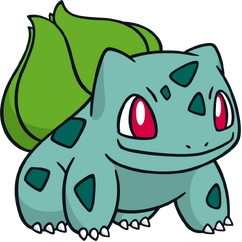 Ad blocker interference detected!
Wikia is a free-to-use site that makes money from advertising. We have a modified experience for viewers using ad blockers

Wikia is not accessible if you've made further modifications. Remove the custom ad blocker rule(s) and the page will load as expected.