Caterpie is a bug pokemon his jappanese name is "Catapie キャタピー" He evolve to metapod at level 7 and butterfree at level 10
Pokedex entry
| | |
| --- | --- |
| Ruby | CATERPIE has a voracious appetite. It can devour leaves bigger than its body right before your eyes. From its antenna, this POKéMON releases a terrifically strong odor. |
| Sapphire | CATERPIE has a voracious appetite. It can devour leaves bigger than its body right before your eyes. From its antenna, this POKéMON releases a terrifically strong odor. |
| Emerald | Its voracious appetite compels it to devour leaves bigger than itself without hesitation. It releases a terribly strong odor from its antennae. |
| Fire red | It is covered with a green skin. When it grows, it sheds the skin, covers itself with silk, and becomes a cocoon. |
| Leaf geen | Its short feet are tipped with suction pads that enable it to tirelessly climb slopes and walls. |
| Diamond | It releases a stench from its red antenna to repel enemies. It grows by molting repeatedly. |
| Pearl | It releases a stench from its red antenna to repel enemies. It grows by molting repeatedly. |
| Platinum | It releases a stench from its red antenna to repel enemies. It grows by molting repeatedly. |
| Heart gold | For protection, it releases a horrible stench from the antennae on its head to drive away enemies. |
| Soulsilver | Its feet have suction cups designed to stick to any surface. It tenaciously climbs trees to forage. |
| Black | It releases a stench from its red antenna to repel enemies. It grows by molting repeatedly. |
| White | It releases a stench from its red antenna to repel enemies. It grows by molting repeatedly. |
| Black 2 | It releases a stench from its red antenna to repel enemies. It grows by molting repeatedly. |
| White 2 | It releases a stench from its red antenna to repel enemies. It grows by molting repeatedly. |
| X | For protection, it releases a horrible stench from the antennae on its head to drive away enemies. |
| Y | Its feet have suction cups designed to stick to any surface. It tenaciously climbs trees to forage. |
| Omega ruby | Caterpie has a voracious appetite. It can devour leaves bigger than its body right before your eyes. From its antenna, this Pokémon releases a terrifically strong odor. |
| Alpha sapphire | Caterpie has a voracious appetite. It can devour leaves bigger than its body right before your eyes. From its antenna, this Pokémon releases a terrifically strong odor. |
Trivia
Caterpie was both the first Pokémon to be captured and the first Pokémon to evolve in the anime.
Caterpie shares its category name with Wurmple. They are both known as the Worm Pokémon.
Until the release of Pokémon Platinum, when it became able to learn Bug Bite, Caterpie was unable to do anything to a Ghost type outside ofstruggling except lower its Speed. It shares this trait with its evolution, Metapod. This is also true for Weedle, and its evolution, Kakuna, againstSteel types before Pokémon Platinum was released.

Due to this, it was impossible to complete a Generation I game using only Caterpie or Metapod, since Struggle couldn't hit Ghost types at the time.

In the anime and in Pokémon Adventures, Caterpie holds the record as the Pokémon who takes the least time to evolve twice, taking only one episode in the anime and one chapter in Pokémon Adventures.
In Ash Catches a Pokemon, when Caterpie evolves into Metapod, the process was similar to a real caterpillar going into pupation. Laterepisodes show Caterpie evolving like the rest of the Pokémon do.
Origin
Caterpie resembling a caterpillar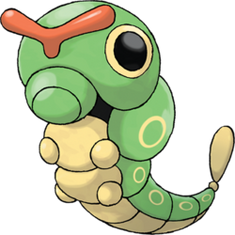 Ad blocker interference detected!
Wikia is a free-to-use site that makes money from advertising. We have a modified experience for viewers using ad blockers

Wikia is not accessible if you've made further modifications. Remove the custom ad blocker rule(s) and the page will load as expected.