Charmeleon is a fire type pokemon His japanese name is "Rizard リザード" He evolve from charmander at level 16 and charizard at level 36
Pokedex entry
| | |
| --- | --- |
| Ruby | CHARMELEON mercilessly destroys its foes using its sharp claws. If it encounters a strong foe, it turns aggressive. In this excited state, the flame at the tip of its tail flares with a bluish white color. |
| Sapphire | CHARMELEON mercilessly destroys its foes using its sharp claws. If it encounters a strong foe, it turns aggressive. In this excited state, the flame at the tip of its tail flares with a bluish white color. |
| Emearald | Without pity, its sharp claws destroy foes. If it encounters a strong enemy, it becomes agitated, and the flame on its tail flares with a bluish white color. |
| Fire red | It lashes about with its tail to knock down its foe. It then tears up the fallen opponent with sharp claws. |
| leaf green | When it swings its burning tail, it elevates the air temperature to unbearably high levels. |
| Diamond | In the rocky mountains where CHARMELEON live, their fiery tails shine at night like stars. |
| Pearl | In the rocky mountains where CHARMELEON live, their fiery tails shine at night like stars. |
| Platinum | In the rocky mountains where CHARMELEON live, their fiery tails shine at night like stars. |
| Heart gold | It is very hotheaded by nature, so it constantly seeks opponents. It calms down only when it wins. |
| Soulsilver | It has a barbaric nature. In battle, it whips its fiery tail around and slashes away with sharp claws. |
| Black | In the rocky mountains where Charmeleon live, their fiery tails shine at night like stars. |
| White | In the rocky mountains where Charmeleon live, their fiery tails shine at night like stars. |
| Black 2 | In the rocky mountains where Charmeleon live, their fiery tails shine at night like stars. |
| White 2 | In the rocky mountains where Charmeleon live, their fiery tails shine at night like stars. |
| X | It lashes about with its tail to knock down its foe. It then tears up the fallen opponent with sharp claws. |
| Y | When it swings its burning tail, it elevates the air temperature to unbearably high levels. |
| Omega ruby | Charmeleon mercilessly destroys its foes using its sharp claws. If it encounters a strong foe, it turns aggressive. In this excited state, the flame at the tip of its tail flares with a bluish white color. |
| Alpha sapphire | Charmeleon mercilessly destroys its foes using its sharp claws. If it encounters a strong foe, it turns aggressive. In this excited state, the flame at the tip of its tail flares with a bluish white color. |
Trivia
Charmeleon and its evolution share their category name with Flareon, Moltres, and Infernape. They are all known as the Flame Pokémon.
Origin
Charmander is similar to salamanders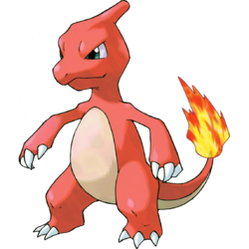 Ad blocker interference detected!
Wikia is a free-to-use site that makes money from advertising. We have a modified experience for viewers using ad blockers

Wikia is not accessible if you've made further modifications. Remove the custom ad blocker rule(s) and the page will load as expected.