Dugtrio is a ground pokemon his japanese name is "Dugtrio ダグトリオ" he evolve from diglett at leve 26
Pokedex entry
| | |
| --- | --- |
| Ruby | DUGTRIO are actually triplets that emerged from one body. As a result, each triplet thinks exactly like the other two triplets. They work cooperatively to burrow endlessly. |
| Sapphire | DUGTRIO are actually triplets that emerged from one body. As a result, each triplet thinks exactly like the other two triplets. They work cooperatively to burrow endlessly. |
| Emerald | Because the triplets originally split from one body, they think exactly alike. They work cooperatively to burrow endlessly through the ground. |
| Fire red | In battle, it digs through the ground and strikes the unsuspecting foe from an unexpected direction. |
| Leaf green | A team of DIGLETT triplets. It triggers huge earthquakes by burrowing 60 miles underground. |
| Diamond | Its three heads move alternately, driving it through tough soil to depths of over 60 miles. |
| Pearl | Its three heads move alternately, driving it through tough soil to depths of over 60 miles. |
| Platinum | Its three heads move alternately, driving it through tough soil to depths of over 60 miles. |
| Heart gold | Its three heads bob separately up and down to loosen the soil nearby, making it easier for it to burrow |
| Soulsilver | Extremely powerful, they can dig through even the hardest ground to a depth of over 60 miles. |
| Black | Its three heads move alternately, driving it through tough soil to depths of over 60 miles. |
| White | Its three heads move alternately, driving it through tough soil to depths of over 60 miles. |
| Black 2 | Its three heads move alternately, driving it through tough soil to depths of over 60 miles. |
| White 2 | Its three heads move alternately, driving it through tough soil to depths of over 60 miles. |
| X | In battle, it digs through the ground and strikes the unsuspecting foe from an unexpected direction. |
| Y | Extremely powerful, they can dig through even the hardest ground to a depth of over 60 miles. |
| Omega ruby | Dugtrio are actually triplets that emerged from one body. As a result, each triplet thinks exactly like the other two triplets. They work cooperatively to burrow endlessly |
| Alpha sapphire | Dugtrio are actually triplets that emerged from one body. As a result, each triplet thinks exactly like the other two triplets. They work cooperatively to burrow endlessly |
Trivia
Dugtrio and its pre-evolution can learn Scratch, Slash, Shadow Claw, and Hone Claws despite having no visible hands or claws.

In Pokémon FireRed and LeafGreen, Dugtrio is also able to learn Fury Swipes.

Dugtrio and its pre-evolution share their category name with Drilbur. They are all known as the Mole Pokémon.
Dugtrio has the highest base Speed of all Ground-type Pokémon.
In the Pokéathlon Hurdle Dash, Dugtrio and Diglett are seen to go underground rather than physically jump out of the ground.
In Generation V, when Dugtrio and Diglett are sent out, they merely fade onto the screen instead of dropping down like all other Pokémon.
In the Poké Transfer, Dugtrio and Diglett run between bushes rather than jump.
Origin
Dugtrio appears to be very similar to the artificial moles used in the Whac-A-Mole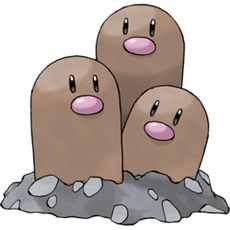 Ad blocker interference detected!
Wikia is a free-to-use site that makes money from advertising. We have a modified experience for viewers using ad blockers

Wikia is not accessible if you've made further modifications. Remove the custom ad blocker rule(s) and the page will load as expected.