Ekans is a poison pokemon his japanese name is "Arbo アーボ" he evolve to arbok at level 22
Pokedex entry
| | |
| --- | --- |
| Ruby | EKANS curls itself up in a spiral while it rests. Assuming this position allows it to quickly respond to a threat from any direction with a glare from its upraised head. |
| sapphire | EKANS curls itself up in a spiral while it rests. Assuming this position allows it to quickly respond to a threat from any direction with a glare from its upraised head. |
| Emerald | An EKANS curls itself up in a spiral while it rests. This position allows it to quickly respond to an enemy from any direction with a threat from its upraised head. |
| Fire red | A very common sight in grassland, etc. It flicks its tongue in and out to sense danger in its surroundings. |
| Leaf green | Moving silently and stealthily, it eats the eggs of birds, such as PIDGEY and SPEAROW, whole. |
| Diamond | It sneaks through grass without making a sound and strikes unsuspecting prey from behind. |
| Pearl | It sneaks through grass without making a sound and strikes unsuspecting prey from behind. |
| Platinum | It sneaks through grass without making a sound and strikes unsuspecting prey from behind. |
| Heart gold | It can freely detach its jaw to swallow large prey whole. It can become too heavy to move, however. |
| Soulsilver | It always hides in grass. When first born, it has no poison, so its bite is painful, but harmless. |
| Black | It sneaks through grass without making a sound and strikes unsuspecting prey from behind |
| White | It sneaks through grass without making a sound and strikes unsuspecting prey from behind |
| Black 2 | It sneaks through grass without making a sound and strikes unsuspecting prey from behind |
| White 2 | It sneaks through grass without making a sound and strikes unsuspecting prey from behind |
| X | The older it gets, the longer it grows. At night, it wraps its long body around tree branches to rest. |
| Y | Moving silently and stealthily, it eats the eggs of birds, such as Pidgey and Spearow, whole. |
| Omega ruby | Ekans curls itself up in a spiral while it rests. Assuming this position allows it to quickly respond to a threat from any direction with a glare from its upraised head |
| Alpha sapphire | Ekans curls itself up in a spiral while it rests. Assuming this position allows it to quickly respond to a threat from any direction with a glare from its upraised head |
Trivia
In the Pokémon Red and Blue beta, Ekans was originally known as "Arbo". This is, of course, its romanized Japanese name.
In early official art of Ekans, all of the bands on its body were yellow instead of just the one on its "neck". This was changed in later art.
An Ekans was originally going to be featured in Pokémon Snap, shown in an early test shot of an environment that was never featured in the final product. This is also true of its evolution, Arbok.
Ekans is one of fourteen Pokémon that one can collect foreign Pokédex entries for in Pokémon Diamond and Pearl.
Origin
Ekans is similar to rattlesnakes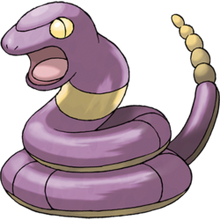 Ad blocker interference detected!
Wikia is a free-to-use site that makes money from advertising. We have a modified experience for viewers using ad blockers

Wikia is not accessible if you've made further modifications. Remove the custom ad blocker rule(s) and the page will load as expected.