Electrode is a electric type pokemon his japanese name is "Marumain マルマイン" he evolve from voltorb at level 30
Pokedex entry
| | |
| --- | --- |
| Ruby | ELECTRODE eats electricity in the atmosphere. On days when lightning strikes, you can see this POKéMON exploding all over the place from eating too much electricity. |
| Sapphire | One of ELECTRODE's characteristics is its attraction to electricity. It is a problematical POKéMON that congregates mostly at electrical power plants to feed on electricity that has just been generated. |
| Emerald | They appear in great numbers at electric power plants. Because they feed on electricity, they cause massive and chaotic blackouts in nearby cities. |
| Fire red | It explodes in response to even minor stimuli. It is feared, with the nickname of "The Bomb Ball." |
| Leaf green | It stores electric energy under very high pressure. It often explodes with little or no provocation. |
| Diamond | It is known to drift on winds if it is bloated to bursting with stored electricity. |
| Pearl | It is known to drift on winds if it is bloated to bursting with stored electricity. |
| Platinum | It is known to drift on winds if it is bloated to bursting with stored electricity. |
| Heart gold | It is dangerous. If it has too much electricity and has nothing to do, it amuses itself by exploding. |
| Soulsilver | It stores an overflowing amount of electric energy inside its body. Even a small shock makes it explode. |
| Black | It is known to drift on winds if it is bloated to bursting with stored electricity. |
| White | It is known to drift on winds if it is bloated to bursting with stored electricity. |
| Black 2 | It is known to drift on winds if it is bloated to bursting with stored electricity. |
| White 2 | It is known to drift on winds if it is bloated to bursting with stored electricity. |
| X | It explodes in response to even minor stimuli. It is feared, with the nickname of "The Bomb Ball." |
| Y | It stores an overflowing amount of electric energy inside its body. Even a small shock makes it explode. |
| Omega ruby | Electrode eats electricity in the atmosphere. On days when lightning strikes, you can see this Pokémon exploding all over the place from eating too much electricity. |
| Alpha sapphire | One of Electrode's characteristics is its attraction to electricity. It is a problematical Pokémon that congregates mostly at electrical power plants to feed on electricity that has just been generated. |
Trivia
In Red, Blue, FireRed, and LeafGreen, players can obtain an Electrode at a level as low as 3 by catching a Pikachu in Viridian Forest, evolving it, and trading it to an old man on Cinnabar Island.
Electrode has a short song dedicated to it, sung by Suzukisan.
Electrode has the highest base Speed of all Electric-types.
Origin
Electrod is a living poké ball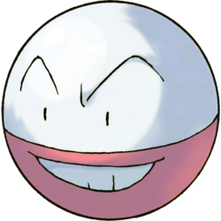 Ad blocker interference detected!
Wikia is a free-to-use site that makes money from advertising. We have a modified experience for viewers using ad blockers

Wikia is not accessible if you've made further modifications. Remove the custom ad blocker rule(s) and the page will load as expected.