Farfetch'd is a normal flying pokemon his japanese name is "Kamonegi カモネギ" he don't have evolutions
Pokedex entry
| | |
| --- | --- |
| Ruby | FARFETCH'D is always seen with a stick from a plant of some sort. Apparently, there are good sticks and bad sticks. This POKéMON has been known to fight with others over sticks. |
| Sapphire | FARFETCH'D is always seen with a stick from a plant of some sort. Apparently, there are good sticks and bad sticks. This POKéMON has been known to fight with others over sticks. |
| Emerald | It is always seen with a stick from a plant. Apparently, there are good sticks and bad sticks. This POKéMON occasionally fights with others over choice sticks. |
| Fire red | It always walks about with a plant stalk clamped in its beak. The stalk is used for building its nest. |
| Leaf green | The plant stalk it holds is its weapon. The stalk is used like a sword to cut all sorts of things. |
| Diamond | It can't live without the stalk it holds. That's why it defends the stalk from attackers with its life. |
| Pearl | It can't live without the stalk it holds. That's why it defends the stalk from attackers with its life. |
| Platinum | It can't live without the stalk it holds. That's why it defends the stalk from attackers with its life. |
| Heart gold | If anyone tries to disturb where the essential plant stalks grow, it uses its own stalk to thwart them. |
| Soulsilver | If it eats the plant stalk it carries as emergency rations, it runs off in search of a new stalk. |
| Black | It can't live without the stalk it holds. That's why it defends the stalk from attackers with its life. |
| White | It can't live without the stalk it holds. That's why it defends the stalk from attackers with its life. |
| Black 2 | It can't live without the stalk it holds. That's why it defends the stalk from attackers with its life. |
| White 2 | It can't live without the stalk it holds. That's why it defends the stalk from attackers with its life. |
| X | The plant stalk it holds is its weapon. The stalk is used like a sword to cut all sorts of things |
| Y | It always walks about with a plant stalk clamped in its beak. The stalk is used for building its nest. |
| Omega ruby | Farfetch'd is always seen with a stalk from a plant of some sort. Apparently, there are good stalks and bad stalks. This Pokémon has been known to fight with others over stalks. |
| Alpha sapphire | Farfetch'd is always seen with a stalk from a plant of some sort. Apparently, there are good stalks and bad stalks. This Pokémon has been known to fight with others over stalks. |
Trivia
Farfetch'd is the only Pokémon with an apostrophe in its name.
Farfetch'd is so far the only Pokémon with a base stat total of 352.
According to the anime, Farfetch'd are rare because they have been over-hunted for food. This means Farfetch'd is one of the few Pokémon confirmed to be used for food.
Origin
Farfetch'd may be inspired by the Japanese saying 「鴨が葱を背負って来る」, literally translating to "a duck comes bearing green onions".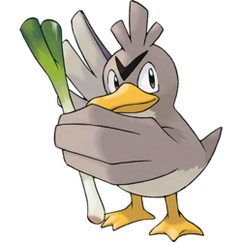 Ad blocker interference detected!
Wikia is a free-to-use site that makes money from advertising. We have a modified experience for viewers using ad blockers

Wikia is not accessible if you've made further modifications. Remove the custom ad blocker rule(s) and the page will load as expected.