Gastly is a ghost poison pokemon his japanese name is "Ghos ゴース" he evolve to haunter at level 25 and gengar with a trade
Pokedex entry
| | |
| --- | --- |
| Ruby | GASTLY is largely composed of gaseous matter. When exposed to a strong wind, the gaseous body quickly dwindles away. Groups of this POKéMON cluster under the eaves of houses to escape the ravages of wind. |
| Sapphire | GASTLY is largely composed of gaseous matter. When exposed to a strong wind, the gaseous body quickly dwindles away. Groups of this POKéMON cluster under the eaves of houses to escape the ravages of wind. |
| Emerald | When exposed to a strong wind, a GASTLY's gaseous body quickly dwindles away. They cluster under the eaves of houses to escape the ravages of wind. |
| Fire red | A being that exists as a thin gas. It can topple an Indian elephant by enveloping the prey in two seconds. |
| Leaf green | Almost invisible, this gaseous POKéMON cloaks the target and puts it to sleep without notice. |
| Diamond | This Pokémon's body is 95% made up of gases, which are blown away by strong gusts of wind. |
| Pear | A Pokémon born from poison gases. It defeats even the largest foes by enveloping them in gas. |
| Platinum | Born from gases, anyone would faint if engulfed by its gaseous body, which contains poison. |
| Heart gold | With its gas-like body, it can sneak into any place it desires. However, it can be blown away by wind. |
| Soulsilver | Its body is made of gas. Despite lacking substance, it can envelop an opponent of any size and cause suffocation. |
| Black | Born from gases, anyone would faint if engulfed by its gaseous body, which contains poison. |
| White | Born from gases, anyone would faint if engulfed by its gaseous body, which contains poison. |
| Black 2 | Born from gases, anyone would faint if engulfed by its gaseous body, which contains poison. |
| White 2 | Born from gases, anyone would faint if engulfed by its gaseous body, which contains poison. |
| X | Its body is made of gas. Despite lacking substance, it can envelop an opponent of any size and cause suffocation. |
| Y | Born from gases, anyone would faint if engulfed by its gaseous body, which contains poison. |
| Omega ruby | Gastly is largely composed of gaseous matter. When exposed to a strong wind, the gaseous body quickly dwindles away. Groups of this Pokémon cluster under the eaves of houses to escape the ravages of wind. |
| Alpha sapphire | Gastly is largely composed of gaseous matter. When exposed to a strong wind, the gaseous body quickly dwindles away. Groups of this Pokémon cluster under the eaves of houses to escape the ravages of wind. |
Trivia
In the Pokémon Red and Blue beta, Gastly's prototype name was "Spirit".
No other Pokémon have the same type combination as Gastly and its evolutions.

Due to its unique type combination, Gastly and its evolutionary relatives are the only Ghost-type Pokémon that are weak against Psychic-type moves and also the only Poison-type Pokémon that are weak against Dark-type moves.

Gastly, its evolution Haunter, and Flabébé are the lightest Pokémon in existence.
Despite all of them being part Poison type, Gastly together with its evolutionary family are not able to learn Poison-type moves by leveling up.
Gastly is tied with Venipede for the lowest HP of all Poison-type Pokémon.
Gastly and its evolution Haunter are the lightest of all Poison-type Pokémon and Ghost-type Pokémon
Origin
Gastly seems to be based on general cartoonish ghosts and spirits, or maybe a will o' the wisp. It may also have been based on the Japaneseyoukai sōgen bi, the decapitated head of a monk whose head is doomed to wander the Earth, consumed by fire. Its Poison type is most likely a reference to poisonous or polluted gases.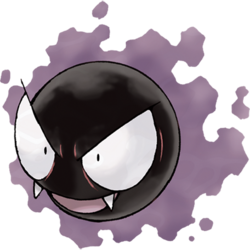 Ad blocker interference detected!
Wikia is a free-to-use site that makes money from advertising. We have a modified experience for viewers using ad blockers

Wikia is not accessible if you've made further modifications. Remove the custom ad blocker rule(s) and the page will load as expected.