Geodude is a rock ground pokemon his japanese name is "Ishitsubute イシツブテ" he evolve to graveler at level 25 and golem with a trade
Pokedex entry
| | |
| --- | --- |
| Ruby | The longer a GEODUDE lives, the more its edges are chipped and worn away, making it more rounded in appearance. However, this POKéMON's heart will remain hard, craggy, and rough always. |
| Sapphire | When GEODUDE sleeps deeply, it buries itself halfway into the ground. It will not awaken even if hikers step on it unwittingly. In the morning, this POKéMON rolls downhill in search of food. |
| Emerald | It climbs mountain paths using only the power of its arms. Because they look just like boulders lining paths, hikers may step on them without noticing. |
| Fire red | Its round form makes it easy to pick up. Some people have used them to hurl at each other in a snowball fight. |
| Leaf green | Found in fields and mountains. Mistaking them for boulders, people often step or trip on them. |
| Diamond | Many live on mountain trails and remain half buried while keeping an eye on climbers |
| Pearl | It is impossible to distinguish from rocks. It slams against others in contests of hardness. |
| Platinum | At rest, it looks just like a rock. Carelessly stepping on it will make it swing its fists angrily. |
| Heart gold | Most people may not notice, but a closer look should reveal that there are many GEODUDE around. |
| Soulsilver | It uses its arms to steadily climb steep mountain paths. It swings its fists around if angered. |
| Black | At rest, it looks just like a rock. Carelessly stepping on it will make it swing its fists angrily |
| White | At rest, it looks just like a rock. Carelessly stepping on it will make it swing its fists angrily |
| Black 2 | At rest, it looks just like a rock. Carelessly stepping on it will make it swing its fists angrily |
| White 2 | At rest, it looks just like a rock. Carelessly stepping on it will make it swing its fists angrily |
| X | Found in fields and mountains. Mistaking them for boulders, people often step or trip on them. |
| Y | It is impossible to distinguish from rocks. It slams against others in contests of hardness. |
| Omega ruby | The longer a Geodude lives, the more its edges are chipped and worn away, making it more rounded in appearance. However, this Pokémon's heart will remain hard, craggy, and rough always. |
| Alpha sapphire | When Geodude sleeps deeply, it buries itself halfway into the ground. It will not awaken even if hikers step on it unwittingly. In the morning, this Pokémon rolls downhill in search of food. |
Trivia
Geodude, along with its evolutions, have been in all Japan-centric regional Pokédexes.
Geodude was been used by all of the Gym Leaders specializing in the Rock type before Generation VI. However, Brock does not use Geodude in Generation II and Generation IV as he did in Generation I and Generation III, though he does use its evolved form, Graveler, and in theFighting Dojo, it evolves into a Golem.
Origin
Geodude is based on a living rock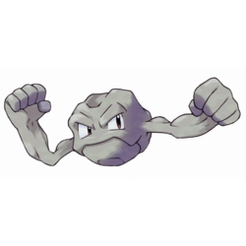 Ad blocker interference detected!
Wikia is a free-to-use site that makes money from advertising. We have a modified experience for viewers using ad blockers

Wikia is not accessible if you've made further modifications. Remove the custom ad blocker rule(s) and the page will load as expected.