Gloom is a grass poison pokemon his japanese name is "Kusaihana クサイハナ" he evolve from oddish at level 21 and evolve to vileplume with a leaf stone or bellossom with a sun stone
Pokedex entry
| | |
| --- | --- |
| Ruby | GLOOM releases a foul fragrance from the pistil of its flower. When faced with danger, the stench worsens. If this POKéMON is feeling calm and secure, it does not release its usual stinky aroma. |
| Sapphire | From its mouth GLOOM drips honey that smells absolutely horrible. Apparently, it loves the horrid stench. It sniffs the noxious fumes and then drools even more of its honey. |
| Emerald | A horribly noxious honey drools from its mouth. One whiff of the honey can result in memory loss. Some fans are said to enjoy this overwhelming stink, however. |
| Fire red | Its pistils exude an incredibly foul odor. The horrid stench can cause fainting at a distance of 1.25 miles. |
| Leaf green | The fluid that oozes from its mouth isn't drool. It is a nectar that is used to attract prey. |
| Diamond | The honey it drools from its mouth smells so atrocious, it can curl noses more than a mile away. |
| Pearl | The honey it drools from its mouth smells so atrocious, it can curl noses more than a mile away. |
| Platinum | The honey it drools from its mouth smells so atrocious, it can curl noses more than a mile away. |
| Heart gold | What appears to be drool is actually sweet honey. It is very sticky and clings stubbornly if touched |
| Soulsilver | It secretes a sticky, drool-like honey. Although sweet, it smells too repulsive to get very close. |
| Black | The honey it drools from its mouth smells so atrocious, it can curl noses more than a mile away. |
| White | The honey it drools from its mouth smells so atrocious, it can curl noses more than a mile away. |
| Black 2 | The honey it drools from its mouth smells so atrocious, it can curl noses more than a mile away. |
| White 2 | The honey it drools from its mouth smells so atrocious, it can curl noses more than a mile away. |
| X | Smells incredibly foul! However, around one out of a thousand people enjoy sniffing its nose-bending stink. |
| Y | The honey it drools from its mouth smells so atrocious, it can curl noses more than a mile away. |
| Omega ruby | Gloom releases a foul fragrance from the pistil of its flower. When faced with danger, the stench worsens. If this Pokémon is feeling calm and secure, it does not release its usual stinky aroma. |
| Alpha sapphire | From its mouth Gloom drips honey that smells absolutely horrible. Apparently, it loves the horrid stench. It sniffs the noxious fumes and then drools even more of its honey. |
Trivia
Gloom is the only dual-type Pokémon that can evolve into a single-type Pokémon.
In the anime, James's description of Gloom's stench is confused in some sources as a description of his Koffing.
Origin
Gloom appears to resemble the nocturnal flower known as Rafflesia arnoldii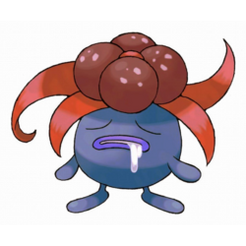 Ad blocker interference detected!
Wikia is a free-to-use site that makes money from advertising. We have a modified experience for viewers using ad blockers

Wikia is not accessible if you've made further modifications. Remove the custom ad blocker rule(s) and the page will load as expected.