Golbat is a poison flying his japanese name is "Golbat ゴルバッ" he evolve from zubat at level 22 and evolve to crobat with happiness
Pokedex entry
| | |
| --- | --- |
| Ruby | GOLBAT loves to drink the blood of living things. It is particularly active in the pitch black of night. This POKéMON flits around in the night skies, seeking fresh blood. |
| Sapphire | GOLBAT bites down on prey with its four fangs and drinks the victim's blood. It becomes active on inky dark moonless nights, flying around to attack people and POKéMON. |
| Emerald | Its fangs easily puncture even thick animal hide. It loves to feast on the blood of people and POKéMON. It flits about in darkness and strikes from behind. |
| Fire red | It clamps down on its prey with needle-sharp fangs and drains over 10 ounces of blood in one gulp. |
| Leaf green | Once it bites, it will not stop draining energy from the victim even if it gets too heavy to fly. |
| Diamond | It loves the blood of humans and Pokémon. It flies around at night in search of neck veins. |
| Pearl | Once it starts sucking blood, it does not stop until it is full. It flies at night in search of prey. |
| Platinum | Its sharp fangs puncture the toughest of hides and have small holes for greedily sucking blood. |
| Heartgold | However hard its victim's hide may be, it punctures with sharp fangs and gorges itself with blood. |
| Soulsilver | It can drink more than 10 ounces of blood at once. If it has too much, it gets heavy and flies clumsily. |
| Black | Its sharp fangs puncture the toughest of hides and have small holes for greedily sucking blood. |
| White | Its sharp fangs puncture the toughest of hides and have small holes for greedily sucking blood. |
| Black 2 | Flitting around in the dead of night, it sinks its fangs into its prey and drains a nearly fatal amount of blood. |
| White 2 | Flitting around in the dead of night, it sinks its fangs into its prey and drains a nearly fatal amount of blood. |
| X | Once it bites, it will not stop draining energy from the victim even if it gets too heavy to fly. |
| Y | Once it starts sucking blood, it does not stop until it is full. It flies at night in search of prey. |
| Omega ruby | Golbat loves to drink the blood of living things. It is particularly active in the pitch black of night. This Pokémon flits around in the night skies, seeking fresh blood. |
| Alpha sapphire | Golbat bites down on prey with its four fangs and drinks the victim's blood. It becomes active on inky dark moonless nights, flying around to attack people and Pokémon. |
Trivia
No other Pokémon has the same type combination as Golbat and its evolutionary relatives.
Golbat, along with Zubat, has appeared in every regional Pokédex. This is due to the Unova Pokédex's expansion in Black 2 and White 2.
Golbat shares its category with Zubat, Crobat, and Woobat. They are all known as the Bat Pokémon.
Origin
Golbat is based on vampire bat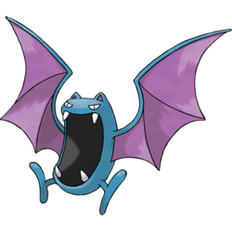 Ad blocker interference detected!
Wikia is a free-to-use site that makes money from advertising. We have a modified experience for viewers using ad blockers

Wikia is not accessible if you've made further modifications. Remove the custom ad blocker rule(s) and the page will load as expected.