Golduck is a water pokemon his japanese name is "Golduck ゴルダック" he evolve from psyduck at level 33
Pokedex entry
| | |
| --- | --- |
| Ruby | The webbed flippers on its forelegs and hind legs and the streamlined body of GOLDUCK give it frightening speed. This POKéMON is definitely much faster than even the most athletic swimmer. |
| Sapphire | GOLDUCK is the fastest swimmer among all POKéMON. It swims effortlessly, even in a rough, stormy sea. It sometimes rescues people from wrecked ships floundering in high seas. |
| Emerald | A GOLDUCK is an adept swimmer. It sometimes joins competitive swimmers in training. It uses psychic powers when its forehead shimmers with light. |
| Fire red | The forelegs are webbed, helping to make it an adept swimmer. It can be seen swimming elegantly in lakes, etc. |
| Leaf green | Often seen swimming elegantly by lakeshores. It is often mistaken for the Japanese monster Kappa. |
| Diamond | A Pokémon that lives in lakes. It swims faster than any human swimming champion. |
| Pearl | The flippers of its well-developed limbs give it shocking speed. It is the best swimmer among Pokémon. |
| Platinum | It is seen swimming dynamically and elegantly using its well-developed limbs and flippers. |
| Heart gold | When it swims at full speed using its long, webbed limbs, its forehead somehow begins to glow. |
| Soulsilver | It appears by waterways at dusk. It may use telekinetic powers if its forehead glows mysteriously. |
| Black | It is seen swimming dynamically and elegantly using its well-developed limbs and flippers. |
| White | It is seen swimming dynamically and elegantly using its well-developed limbs and flippers. |
| Black 2 | When its forehead shines mysteriously, Golduck can use the full extent of its power. |
| White 2 | When its forehead shines mysteriously, Golduck can use the full extent of its power. |
| X | It appears by waterways at dusk. It may use telekinetic powers if its forehead glows mysteriously. |
| Y | The forelegs are webbed, helping to make it an adept swimmer. It can be seen swimming elegantly in lakes, etc. |
| Omega ruby | The webbed flippers on its forelegs and hind legs and the streamlined body of Golduck give it frightening speed. This Pokémon is definitely much faster than even the most athletic swimmer. |
| Alpha sapphire | Golduck is the fastest swimmer among all Pokémon. It swims effortlessly, even in a rough, stormy sea. It sometimes rescues people from wrecked ships floundering in high seas. |
Trivia
Golduck is one of the few Pokémon obtainable in every core series game.
Origin
Golduck's appearance has aspects of a duck, platypus, and kappa.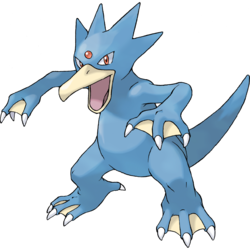 Ad blocker interference detected!
Wikia is a free-to-use site that makes money from advertising. We have a modified experience for viewers using ad blockers

Wikia is not accessible if you've made further modifications. Remove the custom ad blocker rule(s) and the page will load as expected.