Golem is a rock ground pokemon his japanese name is "Gorounya ゴローニャ" he is the final evolution of geodude and evolve from graveler with a trade
Pokedex entry
| | |
| --- | --- |
| Ruby | GOLEM live up on mountains. If there is a large earthquake, these POKéMON will come rolling down off the mountains en masse to the foothills below. |
| Sapphire | GOLEM is known for rolling down from mountains. To prevent them from rolling into the homes of people downhill, grooves have been dug into the sides of mountains to serve as guideways for diverting this POKéMON's course. |
| Emerald | It is said to live in volcanic craters on mountain peaks. Once a year, it sheds its hide and grows larger. The shed hide crumbles and returns to the soil. |
| Fire red | It is enclosed in a hard shell that is as rugged as slabs of rock. It sheds skin once a year to grow larger. |
| Leaf green | Its boulder-like body is extremely hard. It can easily withstand dynamite blasts without taking damage. |
| Diamond | It sheds its hide once a year. Its boulderlike body is so tough, even dynamite can't harm it. |
| Pearl | It tumbles down mountains, leaving grooves from peak to base. Stay clear of these grooves. |
| Platinum | Even dynamite can't harm its hard, boulderlike body. It sheds its hide just once a year. |
| Heart gold | It sheds its skin once a year. The discarded shell immediately hardens and crumbles away. |
| Soulsilver | It is capable of blowing itself up. It uses this explosive force to jump from mountain to mountain. |
| Black | Even dynamite can't harm its hard, boulderlike body. It sheds its hide just once a year. |
| White | Even dynamite can't harm its hard, boulderlike body. It sheds its hide just once a year. |
| Black 2 | Even dynamite can't harm its hard, boulderlike body. It sheds its hide just once a year. |
| White 2 | Even dynamite can't harm its hard, boulderlike body. It sheds its hide just once a year. |
| X | It tumbles down mountains, leaving grooves from peak to base. Stay clear of these grooves. |
| Y | Even dynamite can't harm its hard, boulder-like body. It sheds its hide just once a year. |
| Omega ruby | Golem live up on mountains. If there is a large earthquake, these Pokémon will come rolling down off the mountains en masse to the foothills below. |
| Alpha sapphire | Golem is known for rolling down from mountains. To prevent them from rolling into the homes of people downhill, grooves have been dug into the sides of mountains to serve as guideways for diverting this Pokémon's course. |
Trivia
In Generation I, Golem was the only Pokémon that could not be seen without trading. However, its existence was implied by a non-player character who had just received his friend's Graveler. Venusaur (if the player started with Charmander), either Kabutops or Omastar and Magmar in Pokémon Red and Electabuzz in Pokémon Blue would also be missing, but only Golem was definite.
In the Japanese version of Pokémon Blue, this isn't true as there is an in-game trade for a Graveler.
Origin
Golem is probably based on a turtle with aspects of boulder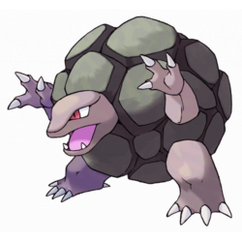 Ad blocker interference detected!
Wikia is a free-to-use site that makes money from advertising. We have a modified experience for viewers using ad blockers

Wikia is not accessible if you've made further modifications. Remove the custom ad blocker rule(s) and the page will load as expected.