Graveler is a rock ground pokemon his japanese name is "Goroun ゴローン" he evolve from geodude at level 25 and evolve to golem with a trade
Pokedex entry
| | |
| --- | --- |
| Ruby | GRAVELER grows by feeding on rocks. Apparently, it prefers to eat rocks that are covered in moss. This POKéMON eats its way through a ton of rocks on a daily basis. |
| Sapphire | Rocks are GRAVELER's favorite food. This POKéMON will climb a mountain from the base to the summit, crunchingly feasting on rocks all the while. Upon reaching the peak, it rolls back down to the bottom. |
| Emerald | They descend from mountains by tumbling down steep slopes. They are so brutal, they smash aside obstructing trees and massive boulders with thunderous tackles. |
| Fire red | Be careful while hiking on mountain trails. GRAVELER may come rolling down the path without slowing. |
| Leaf green | Rolls down slopes to move. It rolls over any obstacle without slowing or changing its direction. |
| Diamond | GRAVELER make their homes on sheer cliff faces by gouging out numerous horizontal holes. |
| Pearl | It tumbles down slopes, heedless of any body parts chipping off. It eats a ton of rocks daily. |
| Platinum | It rolls on mountain paths to move. Once it builds momentum, no Pokémon can stop it without difficulty. |
| Heart gold | With a free and uncaring nature, it doesn't mind if pieces break off while it rolls down mountains. |
| Soulsilver | A slow walker, it rolls to move. It pays no attention to any object that happens to be in its path |
| Black | It rolls on mountain paths to move. Once it builds momentum, no Pokémon can stop it without difficulty. |
| White | It rolls on mountain paths to move. Once it builds momentum, no Pokémon can stop it without difficulty. |
| Black 2 | It rolls on mountain paths to move. Once it builds momentum, no Pokémon can stop it without difficulty. |
| White 2 | It rolls on mountain paths to move. Once it builds momentum, no Pokémon can stop it without difficulty. |
| X | With a free and uncaring nature, it doesn't mind if pieces break off while it rolls down mountains. |
| Y | Rolls down slopes to move. It rolls over any obstacle without slowing or changing its direction. |
| Omega ruby | Graveler grows by feeding on rocks. Apparently, it prefers to eat rocks that are covered in moss. This Pokémon eats its way through a ton of rocks on a daily basis. |
| Alpha sapphire | Rocks are Graveler's favorite food. This Pokémon will climb a mountain from the base to the summit, crunchingly feasting on rocks all the while. Upon reaching the peak, it rolls back down to the bottom. |
Trivia
Graveler's Crystal sprite is different from that of Gold and Silver, making it one of few Pokémon to have three distinctly different sprites inGeneration II.
Graveler's Red and Blue Versions sprite shows an incorrect number of limbs; only four are visible. This was corrected in Pokémon Yellow.

Mato's rendition of the Pokémon also depicts Yellow's Graveler with four limbs, possibly for this reason. All other Graveler that have since appeared in Pokémon Adventures have shown the right amount.

Graveler is the only Pokémon unavailable for use in the Pika Cup who can evolve, despite that Golem is available.
Origin
Graveler appears to be based on a living boulder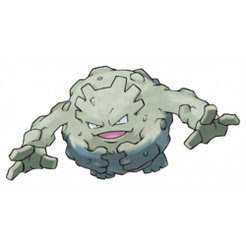 Ad blocker interference detected!
Wikia is a free-to-use site that makes money from advertising. We have a modified experience for viewers using ad blockers

Wikia is not accessible if you've made further modifications. Remove the custom ad blocker rule(s) and the page will load as expected.