Haunter is a ghost poison pokemon his japanese name is "Ghost ゴースト" he evolve from gastly at level 25
and evolve to gengar with a trade
Pokedex entry
| | |
| --- | --- |
| Ruby | HAUNTER is a dangerous POKéMON. If one beckons you while floating in darkness, you must never approach it. This POKéMON will try to lick you with its tongue and steal your life away. |
| Sapphire | HAUNTER is a dangerous POKéMON. If one beckons you while floating in darkness, you must never approach it. This POKéMON will try to lick you with its tongue and steal your life away. |
| Emerald | If a HAUNTER beckons you while it is floating in darkness, don't approach it. This POKéMON will try to lick you with its tongue and steal your life away. |
| Fire red | If you get the feeling of being watched in darkness when nobody is around, HAUNTER is there. |
| Leaf green | Because of its ability to slip through block walls, it is said to be from another dimension. |
| Diamond | It can slip through any obstacle. It lurks inside walls to keep an eye on its foes. |
| Pearl | It licks with its gaseous tongue to steal the victim's life force. It lurks in darkness for prey. |
| Platinum | It likes to lurk in the dark and tap shoulders with a gaseous hand. Its touch causes endless shuddering. |
| Heart gold | In total darkness, where nothing is visible, HAUNTER lurks, silently stalking its next victim. |
| Soulsilver | Its tongue is made of gas. If licked, its victim starts shaking constantly until death eventually comes. |
| Black | It likes to lurk in the dark and tap shoulders with a gaseous hand. Its touch causes endless shuddering. |
| White | It likes to lurk in the dark and tap shoulders with a gaseous hand. Its touch causes endless shuddering. |
| Black 2 | It likes to lurk in the dark and tap shoulders with a gaseous hand. Its touch causes endless shuddering. |
| White 2 | It likes to lurk in the dark and tap shoulders with a gaseous hand. Its touch causes endless shuddering. |
| X | If you get the feeling of being watched in darkness when nobody is around, Haunter is there. |
| Y | It licks with its gaseous tongue to steal the victim's life force. It lurks in darkness for prey. |
| Omega ruby | Haunter is a dangerous Pokémon. If one beckons you while floating in darkness, you must never approach it. This Pokémon will try to lick you with its tongue and steal your life away |
| Alpha sapphire | Haunter is a dangerous Pokémon. If one beckons you while floating in darkness, you must never approach it. This Pokémon will try to lick you with its tongue and steal your life away |
Trivia
In the Pokémon Red and Blue beta, Haunter's prototype name was "Spectre".

The Pokémon Trainer's Survival Guide also erroneously references Haunter by this name on one page.

At 0.2 pounds, Haunter is tied with Gastly and Flabébé as the lightest Pokémon.
Haunter has a slightly different cry starting in Generation III.
No other Pokémon have the same type combination as Haunter and its evolutionary relatives.

Due to its unique type combination, Haunter and its evolutionary relatives are the only Ghost-type Pokémon that are weak against Psychic-type moves and also the only Poison-type Pokémon that are weak against Dark-type moves.

Haunter and its pre-evolution Gastly are the lightest of all Poison-type Pokémon and Ghost-type Pokémon.
Origin
Haunter is possibly based on the dila, a spirit that passes through walls then licks certain humans to death according to Filipino mythology. It also appears to be based on a generic sort of cartoonish ghost.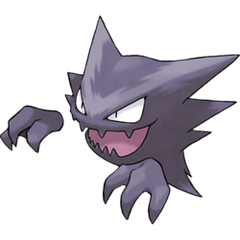 Ad blocker interference detected!
Wikia is a free-to-use site that makes money from advertising. We have a modified experience for viewers using ad blockers

Wikia is not accessible if you've made further modifications. Remove the custom ad blocker rule(s) and the page will load as expected.