Hypno is a psychic pokemon his japanese name is "Sleeper スリーパー" he evolve from drowzee at level 26
Pokedex entry
| | |
| --- | --- |
| Ruby | HYPNO holds a pendulum in its hand. The arcing movement and glitter of the pendulum lull the foe into a deep state of hypnosis. While this POKéMON searches for prey, it polishes the pendulum. |
| Sapphire | HYPNO holds a pendulum in its hand. The arcing movement and glitter of the pendulum lull the foe into a deep state of hypnosis. While this POKéMON searches for prey, it polishes the pendulum. |
| Emerald | The arcing movement and glitter of the pendulum in a HYPNO's hand lull the foe into deep hypnosis. While searching for prey, it polishes the pendulum. |
| Fire red | It carries a pendulum-like device. There once was an incident in which it took away a child it hypnotized. |
| Leaf green | When it locks eyes with an enemy, it will use a mix of PSI moves such as HYPNOSIS and CONFUSION |
| Diamond | Seeing its swinging pendulum can induce sleep in three seconds, even in someone who just woke up. |
| Pearl | Seeing its swinging pendulum can induce sleep in three seconds, even in someone who just woke up. |
| platinum | Seeing its swinging pendulum can induce sleep in three seconds, even in someone who just woke up. |
| Heart gold | When it is very hungry, it puts humans it meets to sleep, then it feasts on their dreams. |
| Soulsilver | Always holding a pendulum that it swings at a steady rhythm, it causes drowsiness in anyone nearby. |
| Black | Seeing its swinging pendulum can induce sleep in three seconds, even in someone who just woke up. |
| White | Seeing its swinging pendulum can induce sleep in three seconds, even in someone who just woke up. |
| Black 2 | Seeing its swinging pendulum can induce sleep in three seconds, even in someone who just woke up. |
| White 2 | Seeing its swinging pendulum can induce sleep in three seconds, even in someone who just woke up. |
| X | When it locks eyes with an enemy, it will use a mix of PSI moves such as Hypnosis and Confusion. |
| Y | Seeing its swinging pendulum can induce sleep in three seconds, even in someone who just woke up |
| Omega ruby | Hypno holds a pendulum in its hand. The arcing movement and glitter of the pendulum lull the foe into a deep state of hypnosis. While this Pokémon searches for prey, it polishes the pendulum. |
| Alpha sapphire | Hypno holds a pendulum in its hand. The arcing movement and glitter of the pendulum lull the foe into a deep state of hypnosis. While this Pokémon searches for prey, it polishes the pendulum. |
Trivia
ypno's Red and Blue and LeafGreen Pokédex entries make reference to it using "PSI moves", possibly indicating an early name for the Psychic type in English.
Origin
Hypno is based on a tapir, hypnotist, and baku, or dream eater spirit, of Japanese mythology. It also looks similar to a proboscis monkey. Hypno's long, hooked nose and white frill could also be based on a vulture, such as Rüppell's Vulture.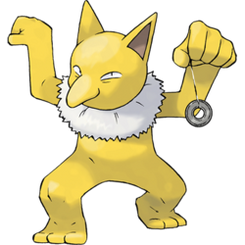 Ad blocker interference detected!
Wikia is a free-to-use site that makes money from advertising. We have a modified experience for viewers using ad blockers

Wikia is not accessible if you've made further modifications. Remove the custom ad blocker rule(s) and the page will load as expected.