Jigglypuff is a fairy normal pokemon before only normal his japanese name is "Purin プリン" he evolve from igglybuff with happiness and evolve to wigglytuff with a moon stone
Pokedex entry
| | |
| --- | --- |
| Ruby | JIGGLYPUFF's vocal chords can freely adjust the wavelength of its voice. This POKéMON uses this ability to sing at precisely the right wavelength to make its foes most drowsy. |
| Sapphire | When this POKéMON sings, it never pauses to breathe. If it is in a battle against an opponent that does not easily fall asleep, JIGGLYPUFF cannot breathe, endangering its life. |
| Emerald | Nothing can avoid falling asleep hearing a JIGGLYPUFF's song. The sound waves of its singing voice match the brain waves of someone in a deep sleep. |
| Fire red | It captivates foes with its huge, round eyes, then lulls them to sleep by singing a soothing melody. |
| Leaf green | When its huge eyes waver, it sings a mysteriously soothing melody that lulls its enemies to sleep. |
| Diamond | When it wavers its big, round eyes, it begins singing a lullaby that makes everyone drowsy. |
| Pearl | When it wavers its big, round eyes, it begins singing a lullaby that makes everyone drowsy. |
| Platinum | When it wavers its big, round eyes, it begins singing a lullaby that makes everyone drowsy. |
| Heart gold | If it inflates to sing a lullaby, it can perform longer and cause sure drowsiness in its audience. |
| Soulsilver | Looking into its cute, round eyes causes it to sing a relaxing melody, inducing its enemies to sleep. |
| Black | When it wavers its big, round eyes, it begins singing a lullaby that makes everyone drowsy. |
| White | When it wavers its big, round eyes, it begins singing a lullaby that makes everyone drowsy. |
| Black 2 | Looking into its cute, round eyes makes it start singing a song so pleasant listeners can't help but fall asleep. |
| White 2 | Looking into its cute, round eyes makes it start singing a song so pleasant listeners can't help but fall asleep. |
| X | It captivates foes with its huge, round eyes, then lulls them to sleep by singing a soothing melody. |
| Y | If it inflates to sing a lullaby, it can perform longer and cause sure drowsiness in its audience. |
| Omega ruby | Jigglypuff's vocal cords can freely adjust the wavelength of its voice. This Pokémon uses this ability to sing at precisely the right wavelength to make its foes most drowsy |
| Alpha sapphire | When this Pokémon sings, it never pauses to breathe. If it is in a battle against an opponent that does not easily fall asleep, Jigglypuff cannot breathe, endangering its life. |
Trivia
Jigglypuff is typically depicted in the Smash Bros. series and other 3D games, Rough, Tough Jigglypuff and other anime episodes, and Ken Sugimori's art with green eyes and tea rose pink fur, more closely resembling its Shiny form.
Jigglypuff and its evolutionary relatives share their category name with Qwilfish and Drifloon. They are all known as the Balloon Pokémon.
Origin
Jigglypuff appears a balloon or a pink puff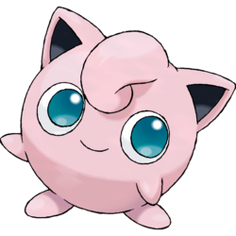 Ad blocker interference detected!
Wikia is a free-to-use site that makes money from advertising. We have a modified experience for viewers using ad blockers

Wikia is not accessible if you've made further modifications. Remove the custom ad blocker rule(s) and the page will load as expected.