Kadabra is a psychic pokemon his japanese name is "Yunghelor ユンゲラー" he evolve from abra a level 16 and evolve to alakazam with a trade
Pokedex entry
| | |
| --- | --- |
| Ruby | KADABRA emits a peculiar alpha wave if it develops a headache. Only those people with a particularly strong psyche can hope to become a TRAINER of this POKéMON. |
| Sapphire | KADABRA holds a silver spoon in its hand. The spoon is used to amplify the alpha waves in its brain. Without the spoon, the POKéMON is said to be limited to half the usual amount of its telekinetic powers. |
| Emerald | It is rumored that a boy with psychic abilities suddenly transformed into KADABRA while he was assisting research into extrasensory powers. |
| Fire red | It happened one morning - a boy with extrasensory powers awoke in bed transformed into KADABRA. |
| Leaf green | It emits special alpha waves from its body that induce headaches just by being close. |
| Diamond | If one is nearby, an eerie shadow appears on TV screens. Seeing the shadow is said to bring bad luck. |
| Pearl | When it uses its psychic power, it emits strong alpha waves that can ruin precision devices. |
| Platinum | It stares at its silver spoon to focus its mind. It emits more alpha waves while doing so. |
| Heart gold | It possesses strong spiritual power. The more danger it faces, the stronger its psychic power. |
| Soulsilver | If it uses its abilities, it emits special alpha waves that cause machines to malfunction. |
| Black | It stares at its silver spoon to focus its mind. It emits more alpha waves while doing so. |
| White | It stares at its silver spoon to focus its mind. It emits more alpha waves while doing so. |
| Black 2 | It stares at its silver spoon to focus its mind. It emits more alpha waves while doing so. |
| White 2 | It stares at its silver spoon to focus its mind. It emits more alpha waves while doing so. |
| X | When it uses its psychic power, it emits strong alpha waves that can ruin precision devices. |
| Y | If it uses its abilities, it emits special alpha waves that cause machines to malfunction. |
| Omega ruby | Kadabra emits a peculiar alpha wave if it develops a headache. Only those people with a particularly strong psyche can hope to become a Trainer of this Pokémon. |
| Alpha sapphire | Kadabra holds a silver spoon in its hand. The spoon is used to amplify the alpha waves in its brain. Without the spoon, the Pokémon is said to be limited to half the usual amount of its telekinetic powers. |
Trivia
In the Pokémon Red and Blue beta, Kadabra was originally known as Pocus.
Kadabra has not been printed as a TCG card since the Skyridge expansion. This may be due to the desire of Nintendo and Pokémon Card Laboratories not to provoke Uri Geller's litigious nature.

For possibly the same reason, Kadabra has not made any anime appearances since Fear Factor Phony except the small cameo in the "World of Pokémon" opening of Kyurem VS. The Sword of Justice.
Kadabra also did not appear in Pokémon Ranger: Shadows of Almia, whereas Abra and Alakazam did.
Origin
Kadabra is based on magicians and spoon benders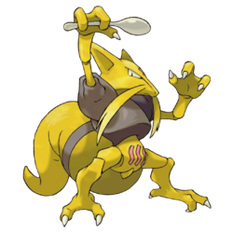 Ad blocker interference detected!
Wikia is a free-to-use site that makes money from advertising. We have a modified experience for viewers using ad blockers

Wikia is not accessible if you've made further modifications. Remove the custom ad blocker rule(s) and the page will load as expected.