Kakuna is a bug pison type pokemon His japanese name is "Kokoon コクーン" He evolve from weedle at level 7 and evolve to beedrill at level 10
Pokedex entry
| | |
| --- | --- |
| Ruby | KAKUNA remains virtually immobile as it clings to a tree. However, on the inside, it is extremely busy as it prepares for its coming evolution. This is evident from how hot the shell becomes to the touch. |
| Sapphire | KAKUNA remains virtually immobile as it clings to a tree. However, on the inside, it is extremely busy as it prepares for its coming evolution. This is evident from how hot the shell becomes to the touch. |
| Emerald | It remains virtually immobile while it clings to a tree. However, on the inside, it busily prepares for evolution. This is evident from how hot its shell becomes. |
| Fire red | This POKéMON is in a temporary stage while making its body. It is almost completely unable to move on its own. |
| Leaf green | Almost incapable of moving, this POKéMON can only harden its shell to protect itself when it is in danger. |
| Diamond | While awaiting evolution, it hides from predators under leaves and in nooks of branches. |
| Pearl | While awaiting evolution, it hides from predators under leaves and in nooks of branches. |
| Platinum | While awaiting evolution, it hides from predators under leaves and in nooks of branches. |
| Heart gold | Although it is a cocoon, it can move a little. It can extend its poison barb if it is attacked. |
| Soulsilver | From this form, it will grow into an adult. As its body becomes softer, the external shell hardens |
| Black | While awaiting evolution, it hides from predators under leaves and in nooks of branches. |
| White | While awaiting evolution, it hides from predators under leaves and in nooks of branches. |
| Black 2 | While awaiting evolution, it hides from predators under leaves and in nooks of branches. |
| White 2 | While awaiting evolution, it hides from predators under leaves and in nooks of branches. |
| X | Almost incapable of moving, this Pokémon can only harden its shell to protect itself when it is in danger |
| Y | While awaiting evolution, it hides from predators under leaves and in nooks of branches. |
| Omega ruby | Kakuna remains virtually immobile as it clings to a tree. However, on the inside, it is extremely busy as it prepares for its coming evolution. This is evident from how hot the shell becomes to the touch. |
| Alpha sapphire | Kakuna remains virtually immobile as it clings to a tree. However, on the inside, it is extremely busy as it prepares for its coming evolution. This is evident from how hot the shell becomes to the touch. |
Trivia
Kakuna shares its category name with Metapod, Silcoon, and Cascoon. They are all known as the Cocoon Pokémon.

They also share the same base stat total, learnset, Ability, and EV yield.

This ties them as the evolved Pokémon with the lowest base stat total.

In the Pokémon Red and Blue beta, "Kokoon" was the prototype English name for Kakuna. This is the same as its romanized Japanese name.
The "arms" on Kakuna seen in its Red and Blue sprite are commonly mistaken to be a sprite error, as they are rarely shown in any other media. They have so far only been shown on its Red and Blue sprite and a Pocket Monsters Bandai card.
Origin
Kakuna is based on pupa stage of a bee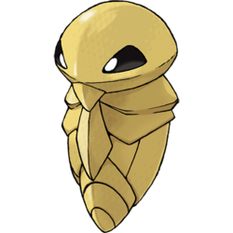 Ad blocker interference detected!
Wikia is a free-to-use site that makes money from advertising. We have a modified experience for viewers using ad blockers

Wikia is not accessible if you've made further modifications. Remove the custom ad blocker rule(s) and the page will load as expected.