Mankey is a fighting pokemon his Japanese name is "Mankey マ ン キ ー" he evolve into Primeape at level 28
Pokedex entry
| | |
| --- | --- |
| Ruby | When MANKEY starts shaking and its nasal breathing turns rough, it's a sure sign that it is becoming angry. However, because it goes into a towering rage almost instantly, it is impossible for anyone to flee its wrath. |
| Sapphire | When MANKEY starts shaking and its nasal breathing turns rough, it's a sure sign that it is becoming angry. However, because it goes into a towering rage almost instantly, it is impossible for anyone to flee its wrath. |
| Emerald | When it starts shaking and its nasal breathing turns rough, it's a sure sign of anger. However, since this happens instantly, there is no time to flee. |
| Fire red | Light and agile on its feet, and ferocious in temperament. When angered, it flies into an uncontrollable frenzy. |
| Leaf green | Extremely quick to anger. It could be docile one moment, then thrashing away the next instant. |
| Diamond | It lives in treetop colonies. If one becomes enraged, the whole colony rampages for no reason. |
| Pearl | It lives in treetop colonies. If one becomes enraged, the whole colony rampages for no reason. |
| Platinum | It lives in treetop colonies. If one becomes enraged, the whole colony rampages for no reason. |
| Heart gold | It is extremely ill-tempered. Groups of them will attack any handy target for no reason. |
| Soulsilver | It's unsafe to approach if it gets violently enraged for no reason and can't distinguish friends from foes. |
| Black | It lives in treetop colonies. If one becomes enraged, the whole colony rampages for no reason. |
| White | It lives in treetop colonies. If one becomes enraged, the whole colony rampages for no reason. |
| Black 2 | It lives in treetop colonies. If one becomes enraged, the whole colony rampages for no reason. |
| White 2 | It lives in treetop colonies. If one becomes enraged, the whole colony rampages for no reason. |
| X | It's unsafe to approach if it gets violently enraged for no reason and can't distinguish friends from foes. |
| Y | It lives in treetop colonies. If one becomes enraged, the whole colony rampages for no reason. |
| Omega ruby | When Mankey starts shaking and its nasal breathing turns rough, it's a sure sign that it is becoming angry. However, because it goes into a towering rage almost instantly, it is impossible for anyone to flee its wrath. |
| Alpha sapphire | When Mankey starts shaking and its nasal breathing turns rough, it's a sure sign that it is becoming angry. However, because it goes into a towering rage almost instantly, it is impossible for anyone to flee its wrath. |
Trivia
Mankey can be seen as a parallel to Meowth. Both of them are Generation I Pokémon who evolve into their evolved forms at or above level 28. Mankey is exclusive to Pokémon Red, Gold, and HeartGold, while Meowth is exclusive to Blue, Silver, and SoulSilver. Additionally, both seem to have a similar color scheme.
Origin
Mankey is based on a pig with characteristics of a baboons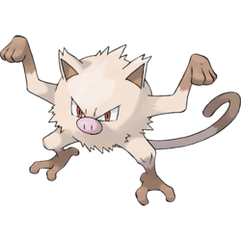 Ad blocker interference detected!
Wikia is a free-to-use site that makes money from advertising. We have a modified experience for viewers using ad blockers

Wikia is not accessible if you've made further modifications. Remove the custom ad blocker rule(s) and the page will load as expected.