Muk is a poison pokemon his japanese name is "Betbeton ベトベトン" he evolve from grimer at level 38
Pokedex entry
| | |
| --- | --- |
| Ruby | From MUK's body seeps a foul fluid that gives off a nose-bendingly horrible stench. Just one drop of this POKéMON's body fluid can turn a pool stagnant and rancid. |
| Sapphire | This POKéMON's favorite food is anything that is repugnantly filthy. In dirty towns where people think nothing of throwing away litter on the streets, MUK are certain to gather. |
| Emerald | It prefers warm and humid habitats. In the summertime, the toxic substances in its body intensify, making MUK reek like putrid kitchen garbage. |
| Fire red | It is usually undetectable because it blends in with the ground. Touching it can cause terrible poisoning. |
| Leaf green | Thickly covered with a filthy, vile sludge. It is so toxic, even its footprints contain poison. |
| Diamond | A toxic fluid seeps from its body. The fluid instantly kills plants and trees on contact. |
| Pearl | A toxic fluid seeps from its body. The fluid instantly kills plants and trees on contact. |
| Platinum | A toxic fluid seeps from its body. The fluid instantly kills plants and trees on contact. |
| Heart gold | They love to gather in smelly areas where sludge accumulates, making the stench around them worse. |
| Soulsilver | Its body is made of a powerful poison. Touching it accidentally will cause a fever that requires bed rest. |
| Black | A toxic fluid seeps from its body. The fluid instantly kills plants and trees on contact. |
| White | A toxic fluid seeps from its body. The fluid instantly kills plants and trees on contact. |
| Black 2 | It's so stinky! Muk's body contains toxic elements, and any plant will wilt when it passes by. |
| White 2 | It's so stinky! Muk's body contains toxic elements, and any plant will wilt when it passes by. |
| X | They love to gather in smelly areas where sludge accumulates, making the stench around them worse. |
| Y | A toxic fluid seeps from its body. The fluid instantly kills plants and trees on contact. |
| Omega ruby | From Muk's body seeps a foul fluid that gives off a nose-bendingly horrible stench. Just one drop of this Pokémon's body fluid can turn a pool stagnant and rancid. |
| Alpha sapphire | This Pokémon's favorite food is anything that is repugnantly filthy. In dirty towns where people think nothing of throwing away litter on the streets, Muk are certain to gather. |
Trivia
Although Muk's body is very poisonous, it doesn't seem to harm Ash and the others when Muk is 'hugging' them. This is probably because it is able to control whether it gives off poison or not, similar to how Ponyta can choose whether or not to burn the person that touches it. Croagunk is another Pokémon which is able to control the amount of poison it uses via its fingertips when using Poison Jab, or Sharpedo activating its Ability, Rough Skin.
Muk is tied with Mew for the shortest English name out of all Pokémon.
Muk shares similar traits to Weezing and Garbodor. All three Pokémon are pure Poison types with a single pre-evolution, roughly the same base stat totals and evolution levels, and appear to be based on a different kind of pollution; Muk being water pollution.
Origin
Muk is based on a living sludge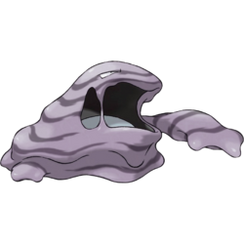 Ad blocker interference detected!
Wikia is a free-to-use site that makes money from advertising. We have a modified experience for viewers using ad blockers

Wikia is not accessible if you've made further modifications. Remove the custom ad blocker rule(s) and the page will load as expected.