Nidoqueen is a poison ground pokemon his japanese name is "Nidoqueen ニドクイン" he is the final evolution of nidoran♀ and evolve from nidorina with a moon stone
Pokedex entry
| | |
| --- | --- |
| Ruby | NIDOQUEEN's body is encased in extremely hard scales. It is adept at sending foes flying with harsh tackles. This POKéMON is at its strongest when it is defending its young. |
| Sapphire | NIDOQUEEN's body is encased in extremely hard scales. It is adept at sending foes flying with harsh tackles. This POKéMON is at its strongest when it is defending its young. |
| Emerald | It is adept at sending foes flying with harsh tackles using its tough, scaly body. This POKéMON is at its strongest when it is defending its young. |
| Fire red | The body is covered by stiff, needle-like scales. If it becomes excited, the needles bristle outwards. |
| Leaf green | Its hard scales provide strong protection. It uses its hefty bulk to execute powerful moves. |
| Diamond | Its entire body is armored with hard scales. It will protect the young in its burrow with its life. |
| Pearl | Its entire body is armored with hard scales. It will protect the young in its burrow with its life. |
| Platinum | Its entire body is armored with hard scales. It will protect the young in its burrow with its life. |
| Heart gold | Its body is covered with needle-like scales. It never shows signs of shrinking from any attack. |
| Soulsilver | It uses its scaly, rugged body to seal the entrance of its nest and protect its young from predators. |
| Black | Its entire body is armored with hard scales. It will protect the young in its burrow with its life. |
| White | Its entire body is armored with hard scales. It will protect the young in its burrow with its life. |
| Black 2 | Its entire body is armored with hard scales. It will protect the young in its burrow with its life. |
| White 2 | Its entire body is armored with hard scales. It will protect the young in its burrow with its life. |
| X | It uses its scaly, rugged body to seal the entrance of its nest and protect its young from predators. |
| Y | The body is covered by stiff, needlelike scales. If it becomes excited, the needles bristle outwards. |
| Omega ruby | Nidoqueen's body is encased in extremely hard scales. It is adept at sending foes flying with harsh tackles. This Pokémon is at its strongest when it is defending its young |
| Alpha spphire | Nidoqueen's body is encased in extremely hard scales. It is adept at sending foes flying with harsh tackles. This Pokémon is at its strongest when it is defending its young |
Trivia
Despite being a non-legendary, gendered species, Nidoqueen are unable to breed. However, its male counterpart, Nidoking, can.

Many of its Pokédex entries state that it protects its young.
Despite being in the Undiscovered Group, Nidoqueen was shown to be capable of breeding in the anime special Mewtwo Returns, when a cloned Nidoqueen and a cloned Rhyhorn produced Eggs containing both baby Rhyhorn and baby Nidoqueen(not baby Nidoran♀).

Nidoqueen is the only Nidoran evolutionary family member whose Shiny color is not the same as its opposite-gender counterpart's normal color.
Nidoqueen and its male counterpart Nidoking share their category name with Rhydon and Rhyperior. They are all known as the Drill Pokémon. All four are also Groundtypes.
Aside from Nidoking, no other Pokémon has the same type combination as Nidoqueen.
Origin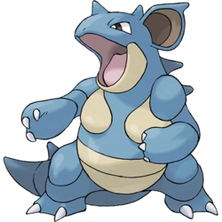 Nidoqueen shares traits of rhinoceroses, gorillas, rabbits and porcupines