Nidorina is a poison pokemon his japanese name is "Nidorina ニドリーナ" he evolve from nidoran♀ at level 16 and evolve to nidoqueen with a moon stone
Pokedex entry
| | |
| --- | --- |
| Ruby | When NIDORINA are with their friends or family, they keep their barbs tucked away to prevent hurting each other. This POKéMON appears to become nervous if separated from the others. |
| Sapphire | When NIDORINA are with their friends or family, they keep their barbs tucked away to prevent hurting each other. This POKéMON appears to become nervous if separated from the others. |
| Emerald | When it is with its friends or family, its barbs are tucked away to prevent injury. It appears to become nervous if separated from the others. |
| Fire red | The female has a gentle temperament. It emits ultrasonic cries that have the power to befuddle foes. |
| Leaf green | The female's horns develop slowly. Prefers physical attacks such as clawing and biting. |
| Diamond | When it senses danger, it raises all the barbs on its body. These barbs grow slower than NIDORINO's. |
| Pearl | When it senses danger, it raises all the barbs on its body. These barbs grow slower than NIDORINO's. |
| Platinum | When it senses danger, it raises all the barbs on its body. These barbs grow slower than NIDORINO's. |
| Heart gold | When feeding its young, it first chews the food into a paste, then spits it out for the offspring. |
| Soulsilver | It has a calm and caring nature. Because its horn grows slowly, it prefers not to fight. |
| Black | When it senses danger, it raises all the barbs on its body. These barbs grow slower than Nidorino's. |
| White | When it senses danger, it raises all the barbs on its body. These barbs grow slower than Nidorino's. |
| Black 2 | When it senses danger, it raises all the barbs on its body. These barbs grow slower than Nidorino's. |
| White 2 | When it senses danger, it raises all the barbs on its body. These barbs grow slower than Nidorino's. |
| X | The female has a gentle temperament. It emits ultrasonic cries that have the power to befuddle foes |
| Y | When feeding its young, it first chews the food into a paste, then spits it out for the offspring. |
| Omega ruby | When Nidorina are with their friends or family, they keep their barbs tucked away to prevent hurting each other. This Pokémon appears to become nervous if separated from the others. |
| Alpha sapphire | When Nidorina are with their friends or family, they keep their barbs tucked away to prevent hurting each other. This Pokémon appears to become nervous if separated from the others. |
Trivia
Despite being a non-legendary, gendered species, and Pokédex entries attesting to its care and protection of offspring, Nidorina and its evolution Nidoqueen are unable to breed; only its pre-evolution, Nidoran♀, can breed.

This also makes Nidorina and Nidoqueen the only two Pokémon that cannot breed even though their pre-evolution can breed.

Nidorina's Shiny coloration is similar to Nidorino's regular coloration and vice versa.
Nidorina and its pre-evolution share their category with their male counterparts Nidoran♂ and Nidorino. They are all known as the Poison Pin Pokémon.
Origin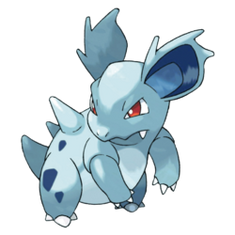 Nidorina appears to be based on rabbits or mices.