Nidorino is a poison pokemon his japanese name is "Nidorino ニドリーノ" he evolve from nidoran♂ at level 16 and evolve to nidoking with a moon stone
Pokedex entry
| | |
| --- | --- |
| Ruby | NIDORINO has a horn that is harder than a diamond. If it senses a hostile presence, all the barbs on its back bristle up at once, and it challenges the foe with all its might. |
| Sapphire | NIDORINO has a horn that is harder than a diamond. If it senses a hostile presence, all the barbs on its back bristle up at once, and it challenges the foe with all its might. |
| Emerald | Its horn is harder than a diamond. If it senses a hostile presence, all the barbs on its back bristle up at once, and it challenges the foe with all its might. |
| Fire red | It is easily angered. By swinging its well-developed horn wildly, it can even punch through diamond. |
| Leaf green | An aggressive POKéMON that is quick to attack. The horn on its head secretes a powerful venom. |
| Diamond | It has a violent disposition and stabs foes with its horn, which oozes poison upon impact. |
| Pearl | It has a violent disposition and stabs foes with its horn, which oozes poison upon impact. |
| Platinum | It has a violent disposition and stabs foes with its horn, which oozes poison upon impact. |
| Heart gold | It raises its big ears to check its surroundings. If it senses anything, it attacks immediately. |
| Soulsilver | Quick to anger, it stabs enemies with its horn to inject a powerful poison when it becomes agitated. |
| Black | It has a violent disposition and stabs foes with its horn, which oozes poison upon impact. |
| White | It has a violent disposition and stabs foes with its horn, which oozes poison upon impact. |
| Black 2 | It has a violent disposition and stabs foes with its horn, which oozes poison upon impact. |
| White 2 | It has a violent disposition and stabs foes with its horn, which oozes poison upon impact. |
| X | It raises its big ears to check its surroundings. If it senses anything, it attacks immediately. |
| Y | An aggressive Pokémon that is quick to attack. The horn on its head secretes a powerful venom. |
| Omega ruby | Nidorino has a horn that is harder than a diamond. If it senses a hostile presence, all the barbs on its back bristle up at once, and it challenges the foe with all its might. |
| Alpha spphire | Nidorino has a horn that is harder than a diamond. If it senses a hostile presence, all the barbs on its back bristle up at once, and it challenges the foe with all its might. |
Trivia
Nidorino is one of the first two Pokémon to appear in a Pokémon battle both in the anime and in the games. The other is Gengar. This is due to their appearance in the opening animation of Pokémon Red and Green, on which the beginning of the first anime episode was based on, as well as the remakes.

It is also the first Pokémon to be both seen and captured in Pokémon Adventures, in much the same way.

Nidorino, along with Gengar (and, possibly, other Pokémon), originate from the old manga, Capsule Monsters, which is considered the ancestor to the Pokémon franchise.
The Nidorino that appears in Professor Oak's introduction in Pokémon Red and Blue has the cry of a Nidorina.
Nidorino's Shiny coloration is the same as Nidorina's normal coloration. Likewise, Nidorina's Shiny coloration matches Nidorino's normal coloration.
Nidorino and its pre-evolution share their category name with their female counterparts Nidoran♀ and Nidorina. They are all known as the Poison Pin Pokémon.
Origin
Nidorino appears to be based on a rhinoceros, porcupine, rabbit, mouse.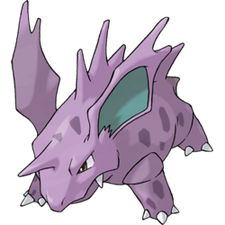 Ad blocker interference detected!
Wikia is a free-to-use site that makes money from advertising. We have a modified experience for viewers using ad blockers

Wikia is not accessible if you've made further modifications. Remove the custom ad blocker rule(s) and the page will load as expected.