Ninetales is a fire pokemon his japanese name is "Kyukon キュウコン" he evolve from vulpix with a fire stone
Pokedex entry
| | |
| --- | --- |
| Ruby | NINETALES casts a sinister light from its bright red eyes to gain total control over its foe's mind. This POKéMON is said to live for a thousand years. |
| Sapphire | Legend has it that NINETALES came into being when nine wizards possessing sacred powers merged into one. This POKéMON is highly intelligent - it can understand human speech. |
| Emerald | It has long been said that each of the nine tails embody an enchanted power. A long-lived NINETALES will have fur that shines like gold. |
| Fire red | It has nine long tails and fur that gleams gold. It is said to live for 1,000 years. |
| leaf green | Very smart and very vengeful. Grabbing one of its many tails could result in a 1,000-year curse. |
| Diamond | Its nine tails are said to be imbued with a mystic power. It can live for a thousand years. |
| Pearl | Its nine tails are said to be imbued with a mystic power. It can live for a thousand years. |
| platinum | Its nine tails are said to be imbued with a mystic power. It can live for a thousand years. |
| Heart gold | Some legends claim that each of its nine tails has its own unique type of special mystical power. |
| Soulsilver | Its nine beautiful tails are filled with a wondrous energy that could keep it alive for 1,000 years. |
| Black | Its nine tails are said to be imbued with a mystic power. It can live for a thousand years. |
| White | Its nine tails are said to be imbued with a mystic power. It can live for a thousand years. |
| Black 2 | Each of its nine tails is imbued with a supernatural power, and it can live for a thousand years. |
| White 2 | Each of its nine tails is imbued with a supernatural power, and it can live for a thousand years. |
| X | It has nine long tales and fur that gleams gold. It is said to live for 1,000 years. |
| Y | Very smart and very vengeful. Grabbing one of its many tails could result in a 1,000-year curse. |
| Omega ruby | Ninetales casts a sinister light from its bright red eyes to gain total control over its foe's mind. This Pokémon is said to live for a thousand years. |
| Alpha sapphire | Legend has it that Ninetales came into being when nine wizards possessing sacred powers merged into one. This Pokémon is highly intelligent-it can understand human speech. |
Trivia
Ninetales's name is misspelled as Ninetails in the Pokémon Trading Card Game for the Game Boy Color and in some prerelease material.
Ninetales and Vulpix share their category name with Fennekin, Braixen, and Delphox. They are all known as the Fox Pokémon.
Ninetales have been shown on several occasions to be able to swim, most notably in Mewtwo Strikes Back and The Power Of One, which is unusual for most Fire types.
As of Generation VI, Ninetales's EV yield of 1 Special Defense and 1 Speed is unique.
Origin
Ninetales is based on a fox, particularly the kitsune.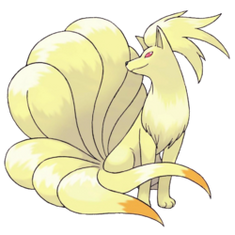 Ad blocker interference detected!
Wikia is a free-to-use site that makes money from advertising. We have a modified experience for viewers using ad blockers

Wikia is not accessible if you've made further modifications. Remove the custom ad blocker rule(s) and the page will load as expected.