Persian is a normal pokemon his japanese name is "Persian ペルシアン" he evolve from meowth at level 28
Pokedex entry
| | |
| --- | --- |
| Ruby | PERSIAN has six bold whiskers that give it a look of toughness. The whiskers sense air movements to determine what is in the POKéMON's surrounding vicinity. It becomes docile if grabbed by the whiskers. |
| Sapphire | PERSIAN has six bold whiskers that give it a look of toughness. The whiskers sense air movements to determine what is in the POKéMON's surrounding vicinity. It becomes docile if grabbed by the whiskers. |
| Emerald | A PERSIAN's six bold whiskers sense air movements to determine what is in its vicinity. It becomes docile if grabbed by the whiskers. |
| Fire red | Has a vicious temperament. Beware if it raises its tail straight up. It is a signal that it is about to pounce and bite. |
| Leaf green | Although its fur has many admirers, it is tough to raise as a pet because of its fickle meanness. |
| Diamond | A very haughty Pokémon. Among fans, the size of the jewel in its forehead is a topic of much talk. |
| Pearl | A very haughty Pokémon. Among fans, the size of the jewel in its forehead is a topic of much talk. |
| Platinum | A very haughty Pokémon. Among fans, the size of the jewel in its forehead is a topic of much talk. |
| Heart gold | Many adore it for its sophisticated air. However, it will lash out and scratch for little reason. |
| Soulsilver | Its lithe muscles allow it to walk without making a sound. It attacks in an instant. |
| Black | A very haughty Pokémon. Among fans, the size of the jewel in its forehead is a topic of much talk. |
| White | A very haughty Pokémon. Among fans, the size of the jewel in its forehead is a topic of much talk. |
| Black 2 | A very haughty Pokémon. Among fans, the size of the jewel in its forehead is a topic of much talk. |
| White 2 | A very haughty Pokémon. Among fans, the size of the jewel in its forehead is a topic of much talk. |
| X | A very haughty Pokémon. Among fans, the size of the jewel in its forehead is a topic of much talk. |
| Y | Its lithe muscles allow it to walk without making a sound. It attacks in an instant. |
| Omega ruby | Persian has six bold whiskers that give it a look of toughness. The whiskers sense air movements to determine what is in the Pokémon's surrounding vicinity. It becomes docile if grabbed by the whiskers |
| Alpha sapphire | Persian has six bold whiskers that give it a look of toughness. The whiskers sense air movements to determine what is in the Pokémon's surrounding vicinity. It becomes docile if grabbed by the whiskers |
Trivia
Persian's Crystal still sprite is different from that of Gold and Silver, making it one of few Pokémon to have three distinctly different sprites inGeneration II.
Origin
Its appearance is arguably more similar to Siamese cats than Persian cats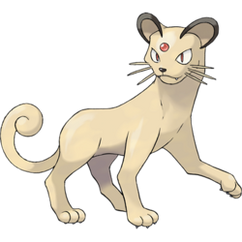 Ad blocker interference detected!
Wikia is a free-to-use site that makes money from advertising. We have a modified experience for viewers using ad blockers

Wikia is not accessible if you've made further modifications. Remove the custom ad blocker rule(s) and the page will load as expected.