Poliwag is a water pokemon his japanese name is "Nyoromo ニョロモ" he evolve to poliwhirl at level 25 and poliwrath and politoed with a water stone and trade with king's rock
Pokedex entry
| | |
| --- | --- |
| Ruby | POLIWAG has a very thin skin. It is possible to see the POKéMON's spiral innards right through the skin. Despite its thinness, however, the skin is also very flexible. Even sharp fangs bounce right off it. |
| Sapphire | POLIWAG has a very thin skin. It is possible to see the POKéMON's spiral innards right through the skin. Despite its thinness, however, the skin is also very flexible. Even sharp fangs bounce right off it. |
| Emerald | It is possible to see this POKéMON's spiral innards right through its thin skin. However, the skin is also very flexible. Even sharp fangs bounce right off it. |
| Fire red | Its slick black skin is thin and damp. A part of its internal organs can be seen through the skin as a spiral pattern. |
| Leaf green | Its newly grown legs prevent it from walking well. It appears to prefer swimming over walking. |
| Diamond | Its skin is so thin, its internal organs are visible. It has trouble walking on its newly grown feet. |
| Pearl | Its skin is so thin, its internal organs are visible. It has trouble walking on its newly grown feet. |
| Platinum | Its skin is so thin, its internal organs are visible. It has trouble walking on its newly grown feet. |
| Heart gold | Because it is inept at walking on its newly grown legs, it always swims around in water. |
| Sousilver | The direction of its belly spiral differs by area. The equator is thought to have an effect on this. |
| Black | Its skin is so thin, its internal organs are visible. It has trouble walking on its newly grown feet. |
| White | Its skin is so thin, its internal organs are visible. It has trouble walking on its newly grown feet. |
| Black 2 | Its skin is so thin, its internal organs are visible. It has trouble walking on its newly grown feet. |
| White 2 | Its skin is so thin, its internal organs are visible. It has trouble walking on its newly grown feet. |
| X | Its slick black skin is thin and damp. A part of its internal organs can be seen through the skin as a spiral pattern |
| Y | The direction of the spiral on the belly differs by area. It is more adept at swimming than walking. |
| Omega ruby | Poliwag has a very thin skin. It is possible to see the Pokémon's spiral innards right through the skin. Despite its thinness, however, the skin is also very flexible. Even sharp fangs bounce right off it. |
| Alpha sapphire | Poliwag has a very thin skin. It is possible to see the Pokémon's spiral innards right through the skin. Despite its thinness, however, the skin is also very flexible. Even sharp fangs bounce right off it. |
Trivia
Poliwag is the favorite Pokémon of Satoshi Tajiri.
In its FireRed Pokédex entry, it is stated Poliwag has black skin. The Ruby and Sapphire Pokédex entry for Poliwhirl states that Poliwhirl's skin is covered in oily fluid - if the same applies to Poliwag, it might be a case similar to the common bilberry: the berry itself is black but covered in a wax-like coating that makes it look blue.
In The Official Pokémon Handbook, published by Scholastic, the back cover says "Did you know that the swirls on Poliwhirl's stomach changes direction when it evolves into Poliwag?" However, Poliwhirl evolves from, not into, Poliwag.
Generation V changed Poliwag's base Experience yield from 77 to 60, making it the only Pokémon whose base Experience yield is the same as its National Dex number.
Poliwag shares its species name with Poliwhirl, Poliwrath, and Tympole. They are all known as the Tadpole Pokémon.
Prior to Generation VI, Poliwag and Ditto had the same cry.
Origin
Poliwag is based on a tadpole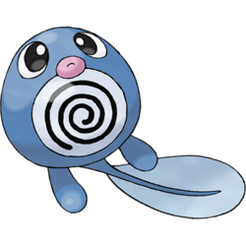 Ad blocker interference detected!
Wikia is a free-to-use site that makes money from advertising. We have a modified experience for viewers using ad blockers

Wikia is not accessible if you've made further modifications. Remove the custom ad blocker rule(s) and the page will load as expected.