Poliwhirl is a water pokemon his japanese name is "Nyorozo ニョロゾ" he evolve from poliwag at level 25 and evolve to poliwrath with a water stone and Politoed with a trade with a king's rock
Pokedex entry
| | |
| --- | --- |
| Ruby | The surface of POLIWHIRL's body is always wet and slick with an oily fluid. Because of this greasy covering, it can easily slip and slide out of the clutches of any enemy in battle. |
| Sapphire | The surface of POLIWHIRL's body is always wet and slick with an oily fluid. Because of this greasy covering, it can easily slip and slide out of the clutches of any enemy in battle. |
| Emerald | Its body surface is always wet and slick with an oily fluid. Because of this greasy covering, it can easily slip and slide out of the clutches of any enemy in battle. |
| Fire red | Its two legs are well developed. Even though it can live on the ground, it prefers living in water. |
| Leaf green | It can live in or out of water. When out of water, it constantly sweats to keep its body slimy. |
| Diamond | The spiral pattern on its belly subtly undulates. Staring at it gradually causes drowsiness |
| Pearl | The spiral pattern on its belly subtly undulates. Staring at it gradually causes drowsiness |
| Platinum | The spiral pattern on its belly subtly undulates. Staring at it gradually causes drowsiness |
| Heart gold | The swirl on its belly subtly undulates. Staring at it may gradually cause drowsiness. |
| Soulsilver | The skin on most of its body is moist. However, the skin on its belly spiral feels smooth. |
| Black | The spiral pattern on its belly subtly undulates. Staring at it gradually causes drowsiness |
| White | The spiral pattern on its belly subtly undulates. Staring at it gradually causes drowsiness |
| Black 2 | The spiral pattern on its belly subtly undulates. Staring at it gradually causes drowsiness |
| White 2 | The spiral pattern on its belly subtly undulates. Staring at it gradually causes drowsiness |
| X | It can live in or out of water. When out of water, it constantly sweats to keep its body slimy. |
| Y | Its two legs are well developed. Even though it can live on the ground, it prefers living in water. |
| Omega ruby | The surface of Poliwhirl's body is always wet and slick with a slimy fluid. Because of this slippery covering, it can easily slip and slide out of the clutches of any enemy in battle. |
| Alpha sapphire | The surface of Poliwhirl's body is always wet and slick with a slimy fluid. Because of this slippery covering, it can easily slip and slide out of the clutches of any enemy in battle. |
Trivia
The logo for the Pokémon Center in Tokyo featured Poliwhirl until it was replaced by Piplup in July 2007.
Poliwhirl was also featured prominently on the center of the November 22nd, 1999 issue of Time Magazine.
Poliwhirl's sprites and artwork are inconsistent with respect to its gloves. Sometimes they are depicted as mittens, while other times they have separate fingers.

All spritework from FireRed and LeafGreen onwards feature Poliwhirl with mitten-like hands. Because of this, Poliwhirl is one of the few Pokémon to have its Emerald sprite differ from the Ruby and Sapphire one.

Poliwhirl shares its category with Poliwag, Poliwrath, and Tympole. They are all known as the Tadpole Pokémon.
Origin
Poliwhirl is based on a glass frog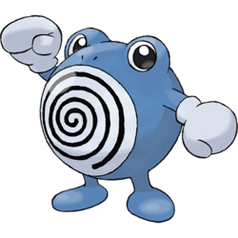 Ad blocker interference detected!
Wikia is a free-to-use site that makes money from advertising. We have a modified experience for viewers using ad blockers

Wikia is not accessible if you've made further modifications. Remove the custom ad blocker rule(s) and the page will load as expected.