Raticate is a normal pokemon his japanese name is "Ratta ラッタ" he evolve from rattata at level 20
Pokedex entry
| | |
| --- | --- |
| Ruby | RATICATE's sturdy fangs grow steadily. To keep them ground down, it gnaws on rocks and logs. It may even chew on the walls of houses. |
| Sapphire | RATICATE's sturdy fangs grow steadily. To keep them ground down, it gnaws on rocks and logs. It may even chew on the walls of houses. |
| Emerald | A RATICATE's sturdy fangs grow steadily. To keep them ground down, it gnaws on rocks and logs. It may even chew on the walls of houses. |
| Fire red | Its rear feet have three toes each. They are webbed, enabling it to swim across rivers. |
| Leaf green | It uses its whiskers to maintain its balance. It apparently slows down if they are cut off. |
| Diamond | It whittles its constantly growing fangs by gnawing on hard things. It can chew apart cinder walls. |
| Pearl | It whittles its constantly growing fangs by gnawing on hard things. It can chew apart cinder walls. |
| Platinum | It whittles its constantly growing fangs by gnawing on hard things. It can chew apart cinder walls. |
| Heart gold | Gnaws on anything with its tough fangs. It can even topple concrete buildings by gnawing on them. |
| Soulsilver | Its whiskers help it to maintain balance. Its fangs never stop growing, so it gnaws to pare them down |
| Black | It whittles its constantly growing fangs by gnawing on hard things. It can chew apart cinder walls. |
| White | It whittles its constantly growing fangs by gnawing on hard things. It can chew apart cinder walls. |
| Black 2 | With its long fangs, this surprisingly violent Pokémon can gnaw away even thick concrete with ease. |
| White 2 | With its long fangs, this surprisingly violent Pokémon can gnaw away even thick concrete with ease. |
| X | It whittles its constantly growing fangs by gnawing on hard things. It can chew apart cinder walls. |
| Y | The webs on its hind legs enable it to cross rivers. It searches wide areas for food |
| Omega ruby | Raticate's sturdy fangs grow steadily. To keep them ground down, it gnaws on rocks and logs. It may even chew on the walls of houses. |
| Alpha sapphire | Raticate's sturdy fangs grow steadily. To keep them ground down, it gnaws on rocks and logs. It may even chew on the walls of houses. |
Trivia
Raticate's catch rate was 90 in Generation I and II, but this was changed to 127 in Generation III.
Raticate is the only Pokémon that shares its National Pokédex number with the level at which it evolves from its pre-evolution.
Raticate and its pre-evolution share their category with Pikachu, Raichu, Sandshrew, and Sandslash. They are all known as the Mouse Pokémon.
Origin
Raticate resembles a muskrat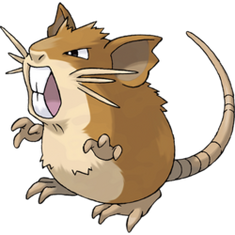 Ad blocker interference detected!
Wikia is a free-to-use site that makes money from advertising. We have a modified experience for viewers using ad blockers

Wikia is not accessible if you've made further modifications. Remove the custom ad blocker rule(s) and the page will load as expected.