Shellder is a water pokemon his japanese name is "Shellder シェルダー" he evolve to Cloyster with a water stone
Pokedex entry
| | |
| --- | --- |
| Ruby | At night, this POKéMON uses its broad tongue to burrow a hole in the seafloor sand and then sleep in it. While it is sleeping, SHELLDER closes its shell, but leaves its tongue hanging out. |
| Sapphire | At night, this POKéMON uses its broad tongue to burrow a hole in the seafloor sand and then sleep in it. While it is sleeping, SHELLDER closes its shell, but leaves its tongue hanging out. |
| Emerald | At night, it burrows a hole in the seafloor with its broad tongue to make a place to sleep. While asleep, it closes its shell, but leaves its tongue hanging out. |
| Fire red | It is encased in a shell that is harder than diamond. Inside, however, it is surprisingly tender. |
| Leaf green | Its hard shell repels any kind of attack. It is vulnerable only when its shell is open. |
| Diamond | It swims backward by opening and closing its two shells. Its large tongue is always kept hanging out. |
| Pearl | It swims backward by opening and closing its two shells. Its large tongue is always kept hanging out. |
| Platinum | It swims backward by opening and closing its two shells. Its large tongue is always kept hanging out. |
| Heart gold | It swims facing backward by opening and closing its two-piece shell. It is surprisingly fast. |
| Soulsilver | Grains of sand trapped in its shells mix with its body fluids to form beautiful pearls. |
| Black | It swims backward by opening and closing its two shells. Its large tongue is always kept hanging out. |
| White | It swims backward by opening and closing its two shells. Its large tongue is always kept hanging out. |
| Black 2 | It swims backward by opening and closing its two shells. Its large tongue is always kept hanging out. |
| White 2 | It swims backward by opening and closing its two shells. Its large tongue is always kept hanging out. |
| X | Its hard shell repels any kind of attack. It is vulnerable only when its shell is open. |
| Y | Clamping on to an opponent reveals its vulnerable parts, so it uses this move only as a last resort. |
| Omega ruby | At night, this Pokémon uses its broad tongue to burrow a hole in the seafloor sand and then sleep in it. While it is sleeping, Shellder closes its shell, but leaves its tongue hanging out. |
| Alpha sapphire | At night, this Pokémon uses its broad tongue to burrow a hole in the seafloor sand and then sleep in it. While it is sleeping, Shellder closes its shell, but leaves its tongue hanging out. |
Trivia
n the anime, Shellder is required to evolve Slowpoke into Slowbro or Slowking. Shellder clamps onto a Slowpoke's tail to evolve into Slowbro, or onto its head while wearing the King's Rock to evolve into a Slowking. Even though Shellder changes form drastically when it bonds with Slowpoke to evolve (see above), it is not considered an evolution in and of itself.
In the episode The Evolution Solution, it is revealed that Shellder is still capable of speech as the shell of a Slowbro.
Shellder were shown to be capable of floating through the air in Pokémon Snap, a trait that has been seen in no other media.
Shellder and Cloyster share their category name with Clamperl. They are all known as the Bivalve Pokémon.
Origin
Shellder is similar to the clam, with its tongue representing a clam's "foot."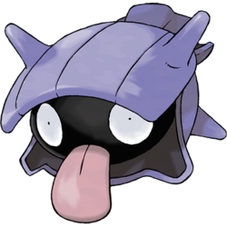 Ad blocker interference detected!
Wikia is a free-to-use site that makes money from advertising. We have a modified experience for viewers using ad blockers

Wikia is not accessible if you've made further modifications. Remove the custom ad blocker rule(s) and the page will load as expected.