Squirtle is a water pokemon His japanese name is "Zenigame ゼニガメ" he evolve to wartortle at level 16 and blastoise at level 36
Pokedex entry
| | |
| --- | --- |
| Ruby | SQUIRTLE's shell is not merely used for protection. The shell's rounded shape and the grooves on its surface help minimize resistance in water, enabling this POKéMON to swim at high speeds. |
| Sapphire | SQUIRTLE's shell is not merely used for protection. The shell's rounded shape and the grooves on its surface help minimize resistance in water, enabling this POKéMON to swim at high speeds. |
| Emerald | Its shell is not just for protection. Its rounded shape and the grooves on its surface minimize resistance in water, enabling SQUIRTLE to swim at high speeds. |
| Fire red | When it retracts its long neck into its shell, it squirts out water with vigorous force. |
| Leaf green | After birth, its back swells and hardens into a shell. It powerfully sprays foam from its mouth. |
| Diamond | It shelters itself in its shell, then strikes back with spouts of water at every opportunity. |
| Pearl | It shelters itself in its shell, then strikes back with spouts of water at every opportunity. |
| Platinum | It shelters itself in its shell, then strikes back with spouts of water at every opportunity. |
| Heart gold | The shell is soft when it is born. It soon becomes so resilient, prodding fingers will bounce off it. |
| Soulsilver | The shell, which hardens soon after it is born, is resilient. If you poke it, it will bounce back out. |
| Black | It shelters itself in its shell, then strikes back with spouts of water at every opportunity. |
| White | It shelters itself in its shell, then strikes back with spouts of water at every opportunity. |
| Black 2 | It shelters itself in its shell, then strikes back with spouts of water at every opportunity. |
| White 2 | It shelters itself in its shell, then strikes back with spouts of water at every opportunity. |
| X | It shelters itself in its shell, then strikes back with spouts of water at every opportunity. |
| Y | Shoots water at prey while in the water. Withdraws into its shell when in danger. |
| Omega ruby | Squirtle's shell is not merely used for protection. The shell's rounded shape and the grooves on its surface help minimize resistance in water, enabling this Pokémon to swim at high speeds |
| Alpha sapphire | Squirtle's shell is not merely used for protection. The shell's rounded shape and the grooves on its surface help minimize resistance in water, enabling this Pokémon to swim at high speeds |
Trivia
Niue released a one-dollar coin featuring Squirtle as part of a commemorative promotion for the Pokémon franchise, with Squirtle on one side and the nation's coat of arms on the other.
As a species, Squirtle has been trained most frequently of all the Kanto starter Pokémon by major anime Trainers, with Ash, May, and Gary each owning one.
Origin
Squirtle is based on sea turtles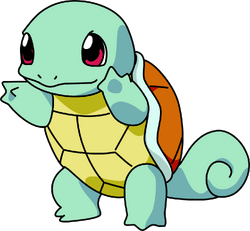 Ad blocker interference detected!
Wikia is a free-to-use site that makes money from advertising. We have a modified experience for viewers using ad blockers

Wikia is not accessible if you've made further modifications. Remove the custom ad blocker rule(s) and the page will load as expected.