Tentacool is a water poison pokemon his japanese name is "Menokurage メノクラゲ" he evolve to tentacruel at level 30
Pokedex entry
| | |
| --- | --- |
| Ruby | TENTACOOL's body is largely composed of water. If it is removed from the sea, it dries up like parchment. If this POKéMON happens to become dehydrated, put it back into the sea. |
| Sapphire | TENTACOOL absorbs sunlight and refracts it using water inside its body to convert it into beam energy. This POKéMON shoots beams from its crystal-like eyes. |
| Emerald | Its body is almost entirely composed of water. It ensnares its foe with its two long tentacles, then stabs with the poison stingers at their tips. |
| Fire red | Its eyes are as transparent as crystals. From them, it shoots mysterious beams of light. |
| Leaf green | Drifts in shallow seas. Anglers who hook them by accident are often punished by their stingers. |
| Diamond | Its body is virtually composed of water. It shoots strange beams from its crystal-like eyes. |
| Pearl | It drifts in sea currents. Countless fishermen are hurt by its poison stingers. |
| Platinum | Because its body is almost entirely composed of water, it shrivels up if it is washed ashore. |
| Heart gold | When the tide goes out, dehydrated TENTACOOL remains can be found washed up on the shore. |
| Soulsilver | It drifts aimlessly in waves. Very difficult to see in water, it may not be noticed until it stings. |
| Black | Because its body is almost entirely composed of water, it shrivels up if it is washed ashore. |
| White | Because its body is almost entirely composed of water, it shrivels up if it is washed ashore. |
| Black 2 | Because its body is almost entirely composed of water, it shrivels up if it is washed ashore. |
| White 2 | Because its body is almost entirely composed of water, it shrivels up if it is washed ashore. |
| X | Its body is virtually composed of water. It shoots strange beams from its crystal-like eyes. |
| Y | Drifts in shallow seas. Anglers who hook them by accident are often punished by their stingers. |
| Omega ruby | Tentacool's body is largely composed of water. If it is removed from the sea, it dries up like parchment. If this Pokémon happens to become dehydrated, put it back into the sea. |
| Alpha sapphire | Tentacool absorbs sunlight and refracts it using water inside its body to convert it into beam energy. This Pokémon shoots beams from the small round organ above its eyes. |
Trivia
In the Pokémon Red and Blue beta, Tentacool was originally known as "Jilly".
Tentacool was the first Generation IV hybrid glitch Pokémon discovered.
Tentacool appears in every regional Pokédex except the Unova Pokédex.
Origin
Tentacool is based on a jellyfish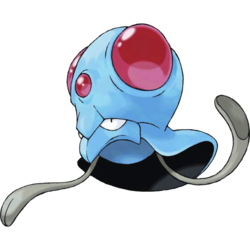 Ad blocker interference detected!
Wikia is a free-to-use site that makes money from advertising. We have a modified experience for viewers using ad blockers

Wikia is not accessible if you've made further modifications. Remove the custom ad blocker rule(s) and the page will load as expected.