Tentacruel is a water poison pokemon his japanese name is "Dokukurage ドククラゲ" he evolve from tentacool at level 30
Pokedex entry
| | |
| --- | --- |
| Ruby | TENTACRUEL has large red orbs on its head. The orbs glow before lashing the vicinity with a harsh ultrasonic blast. This POKéMON's outburst creates rough waves around it. |
| Sapphire | TENTACRUEL has tentacles that can be freely elongated and shortened at will. It ensnares prey with its tentacles and weakens the prey by dosing it with a harsh toxin. It can catch up to 80 prey at the same time. |
| Emerald | It lives in complex rock formations on the ocean floor and traps prey using its 80 tentacles. Its red orbs glow when it grows excited or agitated. |
| Fire red | It has 80 tentacles that move about freely. They can sting, causing poisoning and sharp, stabbing pain. |
| Leaf green | The tentacles are normally kept short. On hunts, they are extended to ensnare and immobilize prey. |
| Diamond | With 80 tentacles for ensnaring victims, it prevents escape until the prey is weakened by poison. |
| Pearl | It alerts others to danger by stridently flashing the red orbs on its head. |
| Platinum | It extends its 80 tentacles to form an encircling poisonous net that is difficult to escape. |
| Heart gold | Its 80 tentacles absorb water and stretch almost endlessly to constrict its prey and enemies. |
| Soulsilver | In battle, it extends all 80 of its tentacles to entrap its opponent inside a poisonous net. |
| Black | It extends its 80 tentacles to form an encircling poisonous net that is difficult to escape. |
| White | It extends its 80 tentacles to form an encircling poisonous net that is difficult to escape. |
| Black 2 | It extends its 80 tentacles to form an encircling poisonous net that is difficult to escape. |
| White 2 | It extends its 80 tentacles to form an encircling poisonous net that is difficult to escape. |
| X | The tentacles are normally kept short. On hunts, they are extended to ensnare and immobilize prey. |
| Y | It has 80 tentacles that move about freely. They can sting, causing poisoning and sharp, stabbing pain. |
| Omega ruby | Tentacruel has large red orbs on its head. The orbs glow before lashing the vicinity with a harsh ultrasonic blast. This Pokémon's outburst creates rough waves around it. |
| Alpha sapphire | Tentacruel has tentacles that can be freely elongated and shortened at will. It ensnares prey with its tentacles and weakens the prey by dosing it with a harsh toxin. It can catch up to 80 prey at the same time. |
Trivia
In the Pokémon Red and Blue beta, Tentacruel was originally known as "Man O War".
Tentacruel's Crystal still sprite is different from that of Gold and Silver, making it one of few Pokémon to have three distinctly different sprites inGeneration II.
Tentacruel appears in every regional Pokédex except the Unova Pokédex.
Origin
Tentacruel is similar to the Portuguese man o' war,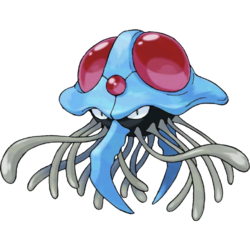 Ad blocker interference detected!
Wikia is a free-to-use site that makes money from advertising. We have a modified experience for viewers using ad blockers

Wikia is not accessible if you've made further modifications. Remove the custom ad blocker rule(s) and the page will load as expected.