Voltorb is a electric pokemonn his japanese name is "Biriridama ビリリダマ" he evolve to electrode at level 30
Pokedex entry
| | |
| --- | --- |
| Ruby | VOLTORB was first sighted at a company that manufactures POKé BALLS. The link between that sighting and the fact that this POKéMON looks very similar to a POKé BALL remains a mystery. |
| Sapphire | VOLTORB is extremely sensitive - it explodes at the slightest of shocks. It is rumored that it was first created when a POKé BALL was exposed to a powerful pulse of energy. |
| Emerald | It bears an uncanny and unexplained resemblance to a POKé BALL. Because it explodes at the slightest shock, even veteran TRAINERS treat it with caution. |
| Fire red | A life-form whose identity is unknown. It is said to SCREECH or suddenly SELFDESTRUCT. |
| Leaf green | Usually found in power plants. Easily mistaken for a POKé BALL, it has zapped many people. |
| Diamond | It looks just like a Poké Ball. It is dangerous because it may electrocute or explode on touch. |
| Pearl | It looks just like a Poké Ball. It is dangerous because it may electrocute or explode on touch. |
| Platinum | It looks just like a Poke Ball. It is dangerous because it may electrocute or explode on touch. |
| Heart gold | It rolls to move. If the ground is uneven, a sudden jolt from hitting a bump can cause it to explode. |
| Soulsilver | It was discovered when Poké Balls were introduced. It is said that there is some connection. |
| Black | It looks just like a Poké Ball. It is dangerous because it may electrocute or explode on touch. |
| White | It looks just like a Poké Ball. It is dangerous because it may electrocute or explode on touch. |
| Black 2 | It looks just like a Poké Ball. It is dangerous because it may electrocute or explode on touch. |
| White 2 | It looks just like a Poké Ball. It is dangerous because it may electrocute or explode on touch. |
| X | It was discovered when Poké Balls were introduced. It is said that there is some connection. |
| Y | Usually found in power plants. Easily mistaken for a Poké Ball, it has zapped many people. |
| Omega ruby | Voltorb was first sighted at a company that manufactures Poké Balls. The link between that sighting and the fact that this Pokémon looks very similar to a Poké Ball remains a mystery. |
| Alpha sapphire | Voltorb is extremely sensitive-it explodes at the slightest of shocks. It is rumored that it was first created when a Poké Ball was exposed to a powerful pulse of energy. |
Trivia
In the English and European versions of Pokémon HeartGold and SoulSilver, a game called Voltorb Flip is introduced in place of slot machines. The game is similar to Minesweeper, and largely focuses on flipping over cards to multiply the coins currently earned. Some cards, however, have Voltorb on them which will cause the player to lose coins when flipped.
Voltorb has the lowest Attack base stat of all Electric-type Pokémon.
Origin
Voltorb is a living poké ball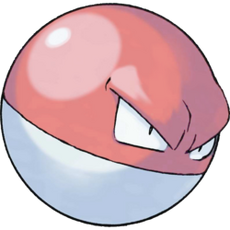 Ad blocker interference detected!
Wikia is a free-to-use site that makes money from advertising. We have a modified experience for viewers using ad blockers

Wikia is not accessible if you've made further modifications. Remove the custom ad blocker rule(s) and the page will load as expected.