Weedle is a bug poison pokemon his japanese name is "Beedle ビードル" He evolve to kakuna at level 7 and beedrill at level 10
Pokedex entry
| | |
| --- | --- |
| Ruby | WEEDLE has an extremely acute sense of smell. It is capable of distinguishing its favorite kinds of leaves from those it dislikes just by sniffing with its big red proboscis (nose). |
| Sapphire | WEEDLE has an extremely acute sense of smell. It is capable of distinguishing its favorite kinds of leaves from those it dislikes just by sniffing with its big red proboscis (nose). |
| Emerald | A WEEDLE has an extremely acute sense of smell. It distinguishes its favorite kinds of leaves from those it dislikes by sniffing with its big red proboscis (nose). |
| Fire red | Often found in forests and grasslands. It has a sharp, toxic barb of around two inches on top of its head. |
| Leaf green | Often found in forests, eating leaves. It has a sharp stinger on its head that injects poison. |
| Diamond | It eats its weight in leaves every day. It fends off attackers with the needle on its head. |
| Pearl | It eats its weight in leaves every day. It fends off attackers with the needle on its head. |
| Platinum | It eats its weight in leaves every day. It fends off attackers with the needle on its head. |
| Heart gold | Its poison stinger is very powerful. Its bright-colored body is intended to warn off its enemies. |
| Soulsilver | It attacks using a two-inch poison barb on its head. It can usually be found under the leaves it eats. |
| Black | It eats its weight in leaves every day. It fends off attackers with the needle on its head. |
| White | It eats its weight in leaves every day. It fends off attackers with the needle on its head. |
| Black 2 | It eats its weight in leaves every day. It fends off attackers with the needle on its head. |
| White 2 | It eats its weight in leaves every day. It fends off attackers with the needle on its head. |
| X | Often found in forests and grasslands. It has a sharp, toxic barb of around two inches on top of its head. |
| Y | Its poison stinger is very powerful. Its bright-colored body is intended to warn off its enemies. |
| Omega ruby | Weedle has an extremely acute sense of smell. It is capable of distinguishing its favorite kinds of leaves from those it dislikes just by sniffing with its big red proboscis (nose). |
| Alpha sapphire | Weedle has an extremely acute sense of smell. It is capable of distinguishing its favorite kinds of leaves from those it dislikes just by sniffing with its big red proboscis (nose). |
Trivia
Weedle has the lowest base stat total of all Poison-type Pokémon.
Weedle is the only Pokémon that cannot learn any Normal-type moves.

Unown's sole move—Hidden Power—cannot deal Normal-type damage, but it is technically a Normal-type move.

Until Platinum, Weedle was completely incapable of dealing damage to Steel-type Pokémon—outside of Struggle—because it could only learn Poison Sting, to which Steel types are immune. From Platinum onward, Weedle can learn Bug Bite.
An early design of Weedle's sprite was shown on Game Freak's official Japanese website.
Origin
Weedle is based on bee larvas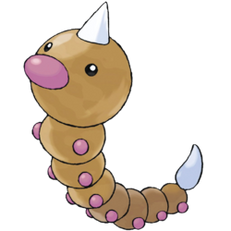 Ad blocker interference detected!
Wikia is a free-to-use site that makes money from advertising. We have a modified experience for viewers using ad blockers

Wikia is not accessible if you've made further modifications. Remove the custom ad blocker rule(s) and the page will load as expected.