Wigglytuff is a fairy normal pokemon before only normal his japanese name is "Pukurin プクリン" he is the final evolution of igglybuff he evolve from jigglypuff with a moon stone
Pokedex entry
| | |
| --- | --- |
| Ruby | WIGGLYTUFF has large, saucerlike eyes. The surfaces of its eyes are always covered with a thin layer of tears. If any dust gets in this POKéMON's eyes, it is quickly washed away. |
| Sapphire | WIGGLYTUFF's body is very flexible. By inhaling deeply, this POKéMON can inflate itself seemingly without end. Once inflated, WIGGLYTUFF bounces along lightly like a balloon. |
| Emerald | Its fur is the ultimate in luxuriousness. Sleeping alongside a WIGGLYTUFF is simply divine. Its body expands seemingly without end when it inhales. |
| Fire red | Its fur is extremely fine, dense, and supple. The exquisitely pleasant fur conveys an image of luxury. |
| Leaf green | The body is soft and rubbery. When angered, it will suck in air and inflate itself to an enormous size. |
| Diamond | Its fine fur feels sublime to the touch. It can expand its body by inhaling air. |
| Pearl | Its fine fur feels sublime to the touch. It can expand its body by inhaling air. |
| Platinum | Its fine fur feels sublime to the touch. It can expand its body by inhaling air. |
| Heart gold | Their fur feels so good that if two of them snuggle together, they won't want to be separated. |
| Soulsilver | It has a very fine fur. Take care not to make it angry, or it may inflate steadily and hit with a body slam. |
| Black | Its fine fur feels sublime to the touch. It can expand its body by inhaling air. |
| White | Its fine fur feels sublime to the touch. It can expand its body by inhaling air. |
| Black 2 | Its fine fur feels so pleasant, those who accidentally touch it cannot take their hands away. |
| White 2 | Its fine fur feels so pleasant, those who accidentally touch it cannot take their hands away. |
| X | Their fur feels so good that if two of them snuggle together, they won't want to be separated. |
| Y | The body is soft and rubbery. When angered, it will suck in air and inflate itself to an enormous size. |
| Omega ruby | Wigglytuff has large, saucerlike eyes. The surfaces of its eyes are always covered with a thin layer of tears. If any dust gets in this Pokémon's eyes, it is quickly washed away. |
| Alpha spphire | Wigglytuff's body is very flexible. By inhaling deeply, this Pokémon can inflate itself seemingly without end. Once inflated, Wigglytuff bounces along lightly like a balloon. |
Trivia
Wigglytuff and its evolutionary relatives share their category name with Qwilfish and Drifloon. They are all known as the Balloon Pokémon.
Wigglytuff has the highest base HP of all Fairy-type Pokémon, with a base stat of 140.
In its earlier appearances, Wigglytuff's white stomach did not always extend above its mouth; however, it always does this in modern appearances.
Origin
Wigglyttuff is based on a balloon with ears of a rabbit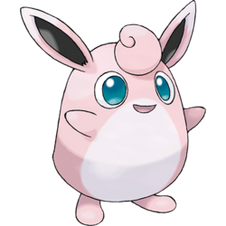 Ad blocker interference detected!
Wikia is a free-to-use site that makes money from advertising. We have a modified experience for viewers using ad blockers

Wikia is not accessible if you've made further modifications. Remove the custom ad blocker rule(s) and the page will load as expected.